For more than two decades, the music venue has showcased some of the best talent to pass through Gainesville as well as top local bands.
---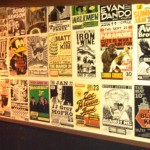 You could say that Pat Lavery was once the poster child for the downtown music venue now known as High Dive. That is, in his younger years he'd go around Gainesville and post announcements of upcoming shows for what was then called the Covered Dish.
"I was their flyer guy," Lavery said with a hint of pride. "It got me in the place for free."
Today, Lavery gets into High Dive for free by booking all the acts there—and at several other venues around Florida—through his Gainesville-based promotions company, Glory Days Presents.
"Back then, I had no idea what promoting music was all about," he said. "I learned so much about touring shows and the underground music scene by observation."
Lavery and the High Dive staff keep things hopping almost every night of the week with live music as well as special events, such as standup comedy, art shows and food truck rallies.
"We do a little bit of everything, but live music is the foundation of what we do," he said. "The core of our business is national touring acts because we have the bigger stage and sound system they need. The more bands that are touring, the busier we are."
Lavery said High Dive is a little unique in Gainesville in that he tries to book anyone people want to see.
"We're looking for bands and events that will fill the room on a regular basis," Lavery said, adding that he often gives local musicians opportunities to open for touring acts.
"Seventy-five percent of the touring acts here have local bands opening for them," he said. "We try to mix it up."
Each recent decade of college students remembers the Southwest Second Avenue venue by a different name. In the 1980s, it was the Spectrum Disco catering to a gay crowd. Grace Jones gave rousing performances there. Other dance clubs followed on the site but didn't last.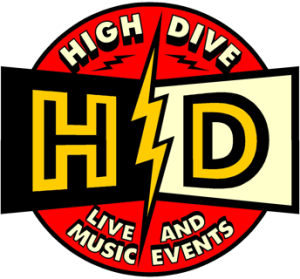 In 1992, businessman Bill Bryson purchased the vacant venue and opened the Covered Dish, showcasing up-and-coming rock, punk and indie acts. The Dave Matthews Band made its Florida debut there in 1994. A flyer from that show and many others are still posted in a hallway near the restrooms.
"I believe I promoted the first Dave Matthews show in Florida," Bryson said. "I'd been following their progress on the east coast gigs and reached out to them to play Gainesville."
Bryson had an AM station operating as community radio at the time.
"We gave their independent-released first record some airplay and the buzz was beginning to build for them in the South," Bryson said. "We had over 300 people show up, and the rest is history."
According to Bryson, the Dave Matthews Band was one of the first acts to accept credit-card payments for merchandise. They sold more than $1,500 in merchandise that night at the Covered Dish, more than they got paid for performing there.
Green Day performed there right when the group was signing with Warner Bros.
"It was the Kerplunk tour for their last independent release," Bryson said. "Expectations for the show were small until the week of the show, and then it sold out in advance."
The Covered Dish gave way to Common Grounds, which opened in 2004 after operating as a storefront coffeehouse for several years on University Avenue. George Clinton and Kenny Chesney were among the big-name acts to play there before raucous crowds.
Lavery and his business partners took over in 2011 and renamed the club Double Down Live. However, they soon learned that the name infringed on a Las Vegas saloon's trademark.
To avoid litigation, Lavery went back to the drawing board and came up with the name High Dive, which he said is short for "a high-end dive bar."
For alcohol, people can belly up to the L-shaped bar indoors or order from the outdoor bar on the patio deck and relax beneath the oaks.
"We're not a fancy cocktail bar with fifteen-dollar drinks," he said. "But we're trying to be upper echelon as far as the product we put out."
High Dive doesn't serve food, but patrons don't have far to walk for munchies. A food wagon is stationed outside the entrance. Five Star Pizza occupies the north end of the High Dive building. Across Second Avenue is The Jones B-Side. Around the corner is Wholly BBQ Café.

High Dive's food truck rallies have been known to draw swarms of people. As many as 12 trucks have lined the HD parking lot, creating a street-festival atmosphere that fills the air with mouthwatering aromas and spirited live music. (The next food truck rally is Sept. 19.)
"We had no idea it would be as successful as it has been," Lavery said. "The food truck rallies bring in business. Everyone downtown sees a bump for those events."
Over Labor Day, High Dive played host to the fourth annual Less Than Jake Wake and Bake Weekend. The popular Gainesville-based ska/punk band headlined the two-day event, which drew fans from around the world.
"The show is special to us," Lavery said. "They're one of the biggest Gainesville bands of the last 20 years. They were the first show I saw in Gainesville when this place was the Covered Dish.
"They could do their show anywhere in town they wanted to, but they choose High Dive."
And the feeling is mutual.
"We love High Dive," said LTJ front man Chris DeMakes. "It's the perfect place for us to jam and be face to face with our diehard fans. It's our home base."
As the five-member band performed its high-energy act on stage and its smiley-faced mascot sent cascades of toilet paper and Silly String into the crowd, a few dozen fans formed a mosh pit down front. They were rowdy but not out of control.
"I think something that sets us apart is our commitment to safety and professionalism," said James Barratt, who has worked at High Dive for three years. "We have a lot of big shows come through, and HD is a fun, safe place to see a show."
On Sept. 25, High Dive will once again sponsor Art Attack, spotlighting the works of 20 visual artists on indoor and outdoor stages in what Lavery calls "a gallery-type, multimedia experience."
"It's gritty, grungy and unpretentious. There is sort of a sweet imperfection to it."
— Pat Lavery, High Dive promoter
The tin-roofed High Dive building was originally a feed store with a pit in the floor for storage. Today, that pit—once a sunken dance floor—is covered over, but the place still has a roadhouse feel to it.
"It's gritty, grungy and unpretentious," Lavery said. "There is sort of a sweet imperfection to it."
And the music is what continues to draw throngs of people to many shows.
"I think we still have what is considered the best experience for customers in town," Lavery said. "It's where you get to meet your friends and see some really cool bands perform."
And these days Lavery has others going around town putting up the flyers.
— Noel Neff
---
High Dive
210 SW 2nd Ave.
Gainesville, FL 32601
352 872-5949