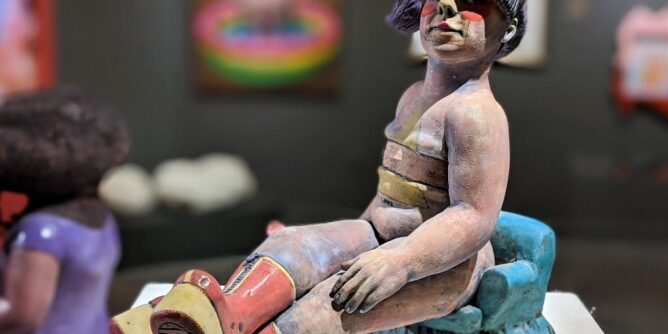 The Thomas Center's Main Gallery spotlights 19 local and regional artists who challenge limitations, assumptions and the status quo.
---
One century ago, a woman's right to vote in the U.S. finally became a reality with the ratification of the 19th Amendment.
Anne Gilroy, curator of the Thomas Center Galleries, wanted to mark the centennial of that monumental event with an art exhibit. She started out with the simple idea of "celebrating" the Year of the Woman.
"I wanted to push the idea further, though, so I immersed myself in research about the suffrage movement, watched documentaries, read books, even found a graphic novel," she said. "The more I read and studied, the more I realized that if we are to truly recognize this landmark achievement, we really had to get real about the fact that it was civil disobedience, upheaval and rebellion we needed to truly acknowledge."
That led Gilroy to thinking about the role of art in making social change.
"And that, of course, led to me thinking about the kind of art that pushes boundaries, makes us uncomfortable, demands accountability," she said.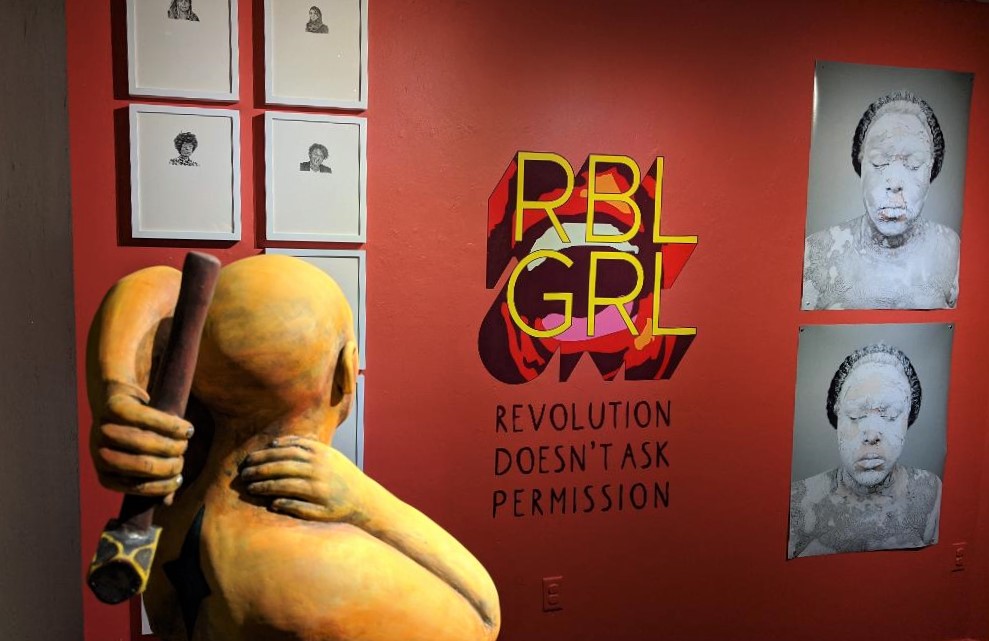 The result of Gilroy's epiphany is the exhibit "RBL GRL | Revolution Doesn't Ask Permission," opening this week in the Historic Thomas Center's first-floor Main Gallery. There's an opening reception Friday from 5:30-7:30 p.m. The event will feature music by the wife/wife duo Baer and the Lady. The public is invited.
The exhibit features works by 19 local and regional artists — none of whom identify as male — including paintings, drawings, etchings, ceramics, embroidery, weaving, sculpture, photography, book arts, mixed media, textiles and even paper puppets.
"It's an amazing array of materials that the artists are using to tell their stories," Gilroy said.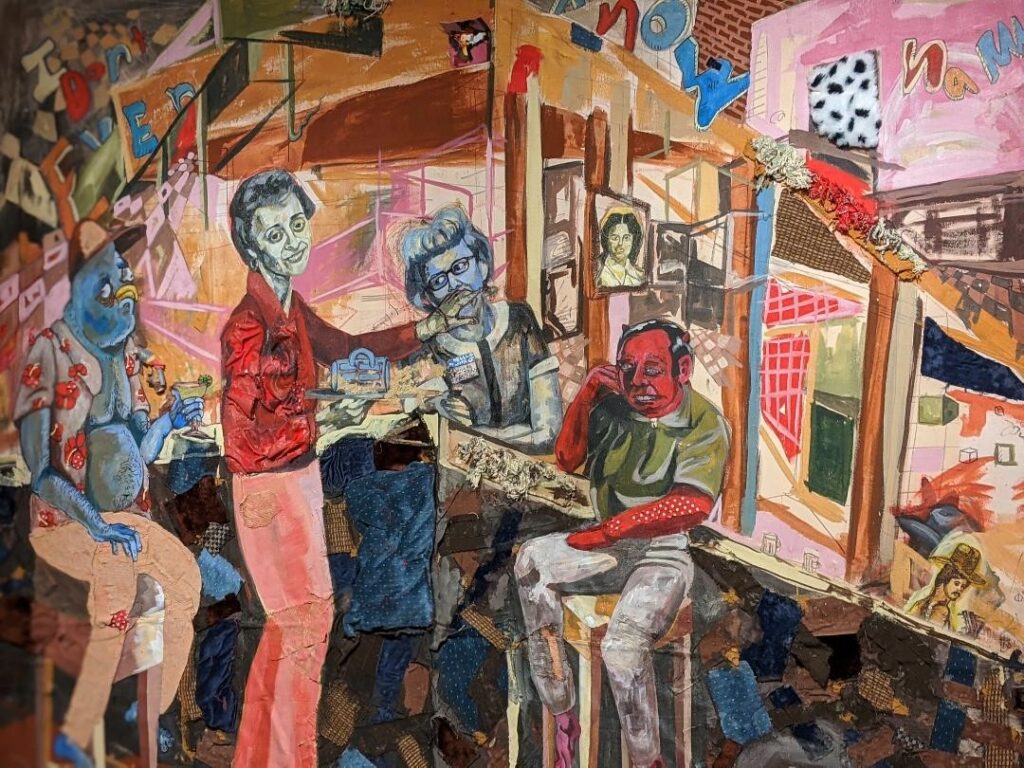 One of those "rebellious" artists is Jillian Marie Browning, whose photography is featured in two displays near the entrance to the exhibit. One is a set of black-and-white photos titled "A Soft Person Impersonating a Hard Stone" that is actually a self-portrait of Browning caked in clay.
"These particular images are two from a series of performance documentation where I covered myself in clay and photographed myself as it dried and fell off," Browning said. "As the clay starts to dry it gets more restrictive, and as I attempt to move it will fall off in chunks. I start off rigid and stiff and as more of my skin is visible through the clay, the more human you can see under it, eventually my expression and body position getting softer."
Browning, a teaching lab specialist at UF, said her photographs are intended to convey a statement about identity.
"I did this piece to talk about the idea of putting up a wall or facade to be able to deal with certain situations and how things can chip away at a tough exterior," she said, "but underneath it all I'm still just a very soft human trying to appear tougher than I am just to get through."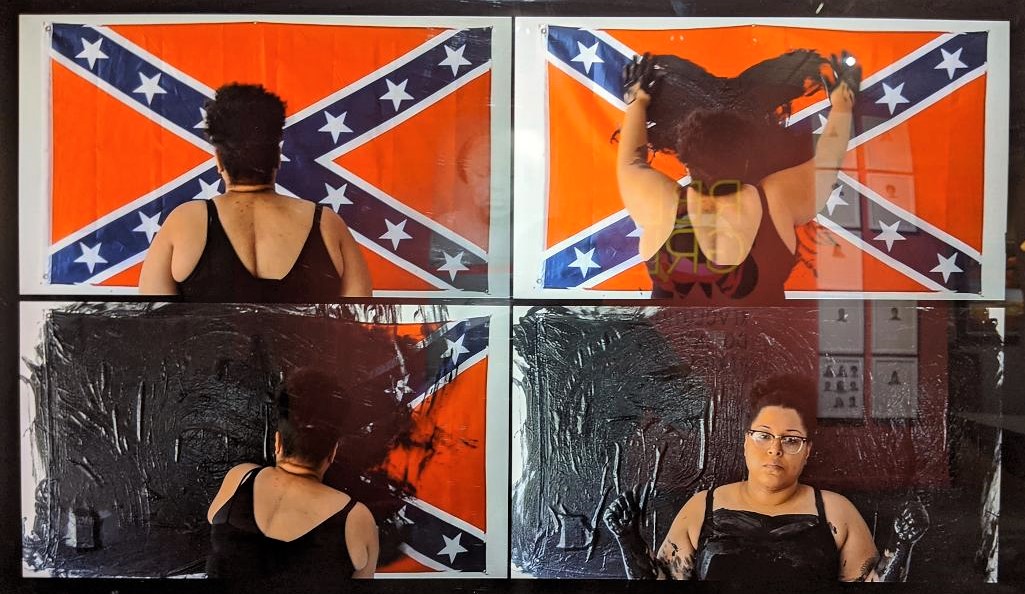 Across the entrance, Browning has a set of four more self-portraits titled "Painting the Rebel Flag Black."
"I am primarily a self-portrait artist so all the work I make is from my own perspective," she said. "But on a lot of my pieces, my body could be any body. Just because it is about me or of me doesn't mean it can't apply to other people or other situations, especially people who see themselves in the work that I make."
Gilroy got the title of the exhibit from the 1992 song "Rebel Girl " by the Seattle-based punk band Bikini Kill. She'd heard a recent story on NPR that mentioned how the song had become an anthem of feminism even for young girls and women, including campers and counselors at girls' rock camps.