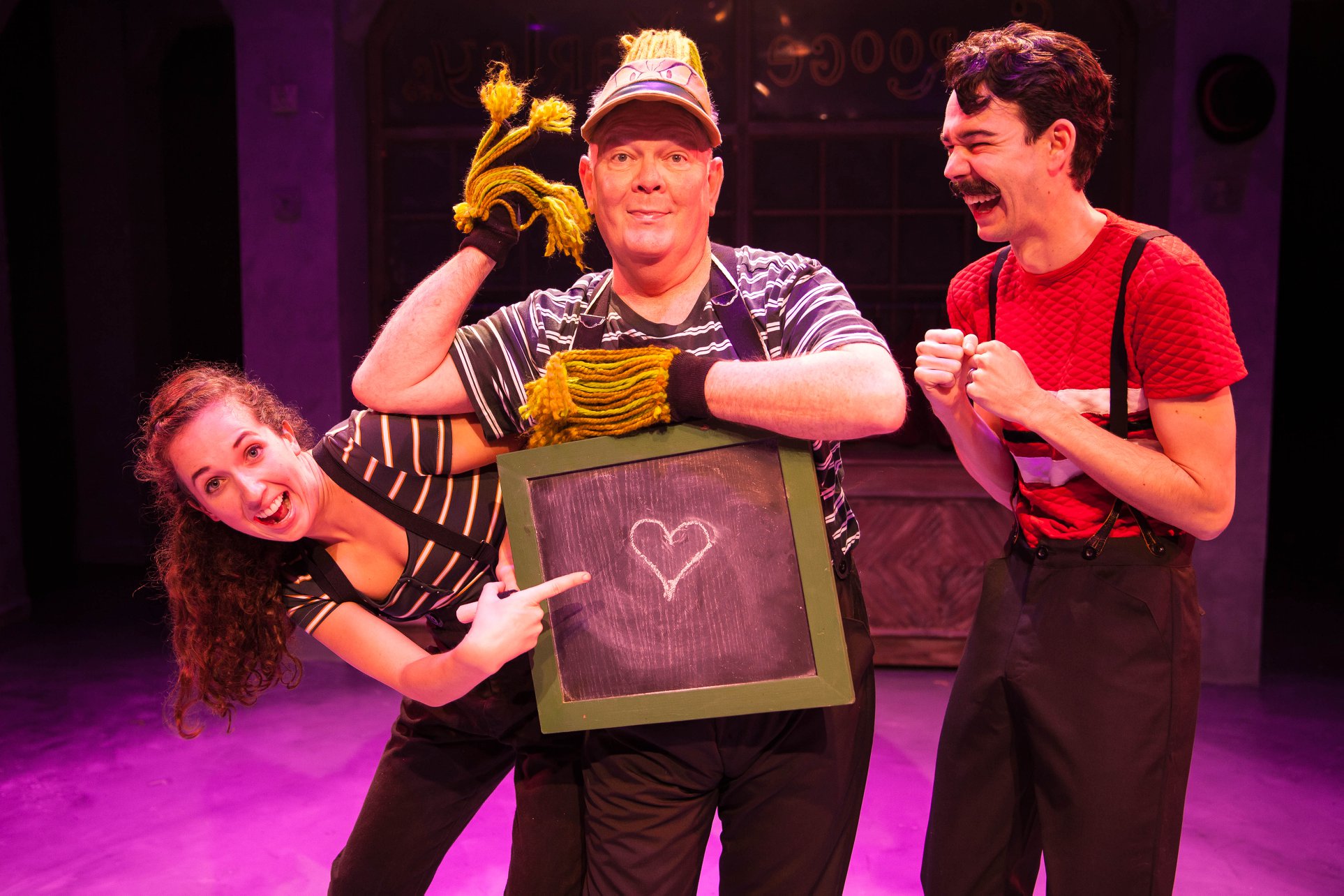 Not even Rudolph and Frosty — especially Frosty — are safe in Every Christmas Story Ever Told (And Then Some!), a laugh-out-loud spoof opening this week on the Hippodrome mainstage.

---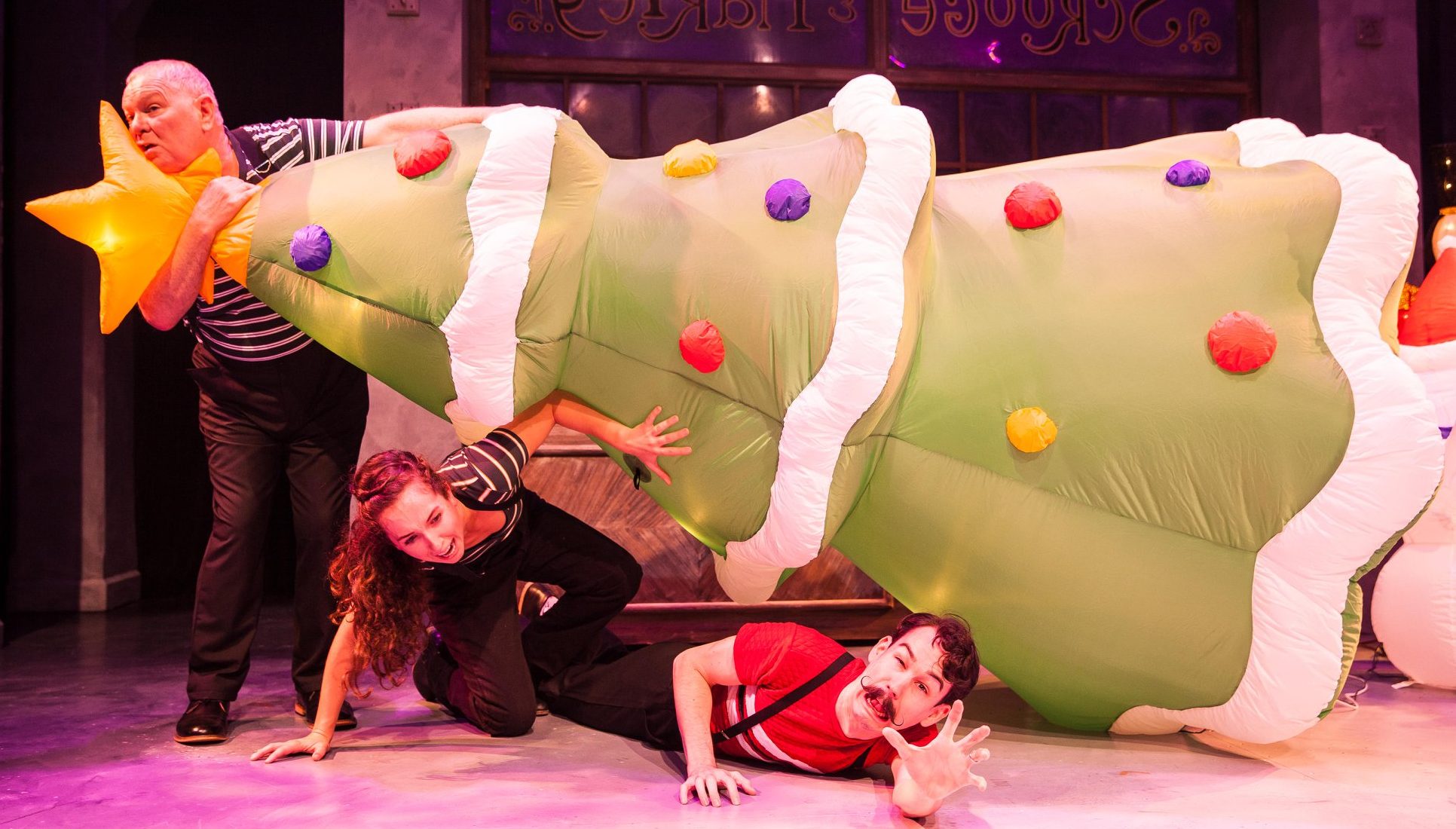 For a theater staging a version of A Christmas Carol for the 41st consecutive season, the Hippodrome is proving this year that it can also poke some fun at the classic Charles Dickens tale — and at itself.
In its new mainstage production, Every Christmas Story Ever Told (And Then Some!), the Hippodrome takes a tongue-in-cheek look at A Christmas Carol and just about every other venerable holiday story passed down through the ages. Be forewarned: Nothing is sacred.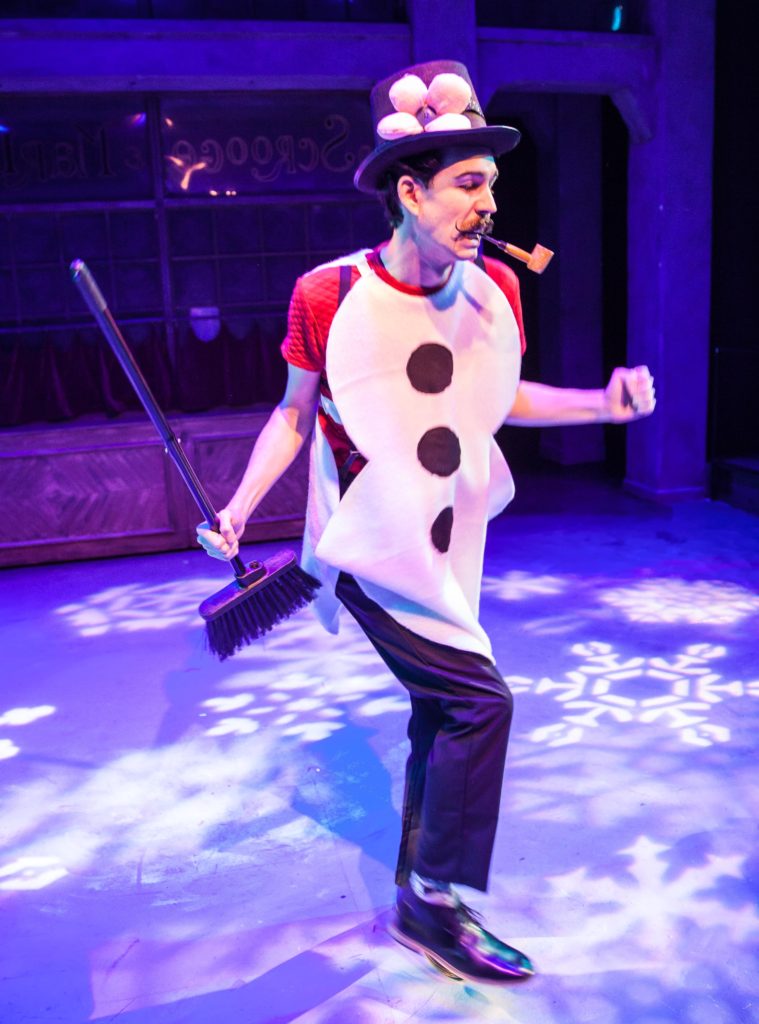 "Every scene is funny in a different way," said director Stephanie Lynge. "People will just leave with their faces hurting from laughing so hard."
Opening Night for Every Christmas Story Ever Told (And Then Some!) is Friday at 8. There are also shows this weekend on Saturday at 8:30 p.m. and Sunday at 2 p.m., followed by six performances a week through Dec. 23.
In addition to Every Christmas Story Ever Told (And Then Some!), the Hippodrome will once again present its traditional production of A Christmas Carol on Saturdays at 2 p.m. and 4 p.m. (and on Sunday afternoons beginning Dec. 2) leading up to Christmas. Tickets for both productions are available at thehipp.org and through the Hipp's box office, 25 SE 2nd Place.
"This is such a great juxtaposition to A Christmas Carol because that is this beautiful, traditional story and then there's this funny, silly, joyful celebrate-everything-in-a-funny-funny-funny-way spoof that we've got going on in Every Christmas Story Ever Told," Lynge said. "It's practically a farce."
Every Christmas Story Ever Told (And Then Some!) begins innocently enough when an enthusiastic director, played by Mark Chambers (using his actual first name as his character), meets with resistance from his cast when he announces plans to stage A Christmas Carol.
"But it's been done to death!" protests an actor named Logan (Logan Wolfe). "I've done a gazillion Christmas Carols. First I was Tiny Tim. Then I was the old dead guy. … I'm just saying, Christmas Carol is not my particular idea of Christmas."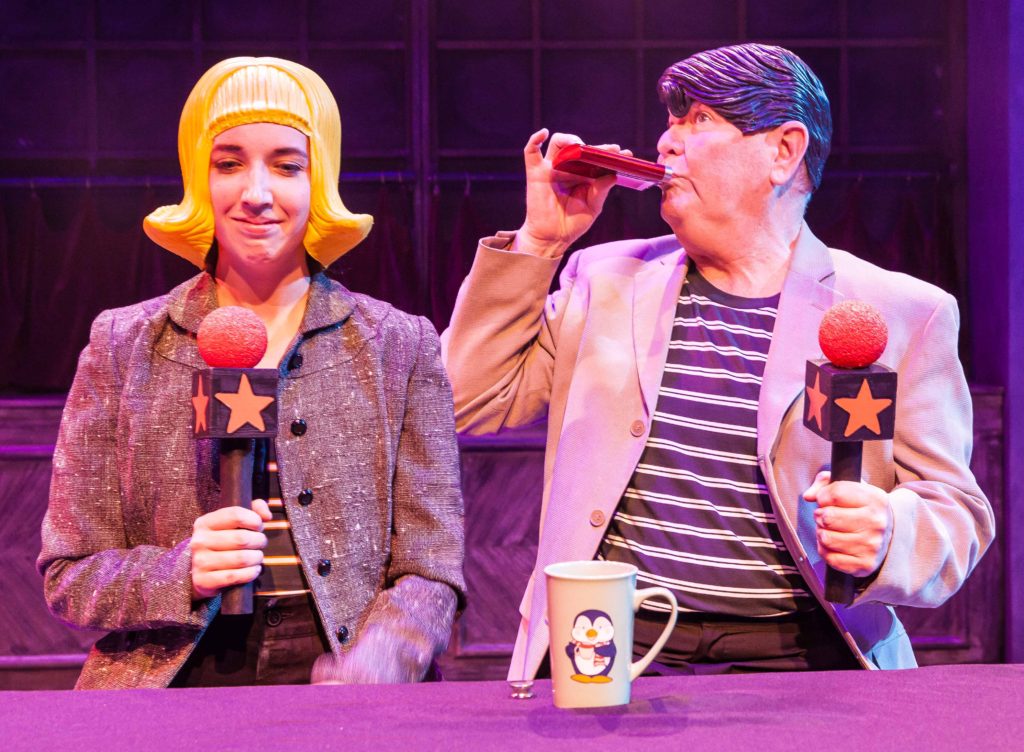 As a compromise, Mark agrees to help his "actors," Logan and Ali (played by Hippodrome newcomer Ali Foley), tell other holiday stories as long as he gets a chance to stage A Christmas Carol before the evening ends.
What ensues is a madcap romp that gives short shrift to Hanukkah and Kwanzaa before launching into a series of outrageous sketches that parody Rudolph the Red-Nosed Reindeer, Frosty the Snowman, Santa's elves and other holiday icons.
No tradition is safe, whether it's much-maligned fruitcake, the Macy's Thanksgiving Day Parade, a retelling of The Gift of the Magi or a warped version of the Nutcracker ballet that would make members of Dance Alive shudder.
The play includes a good dose of pop-culture references. They've even put in a cameo appearance by a certain Russian leader.
"It is very funny, I've gotta tell you," said Lauren Warhol Caldwell, the Hipp's artistic director. "Kids will get excited and parents will like it, too, and they'll like watching their kids like it. It's just the perfect formula!"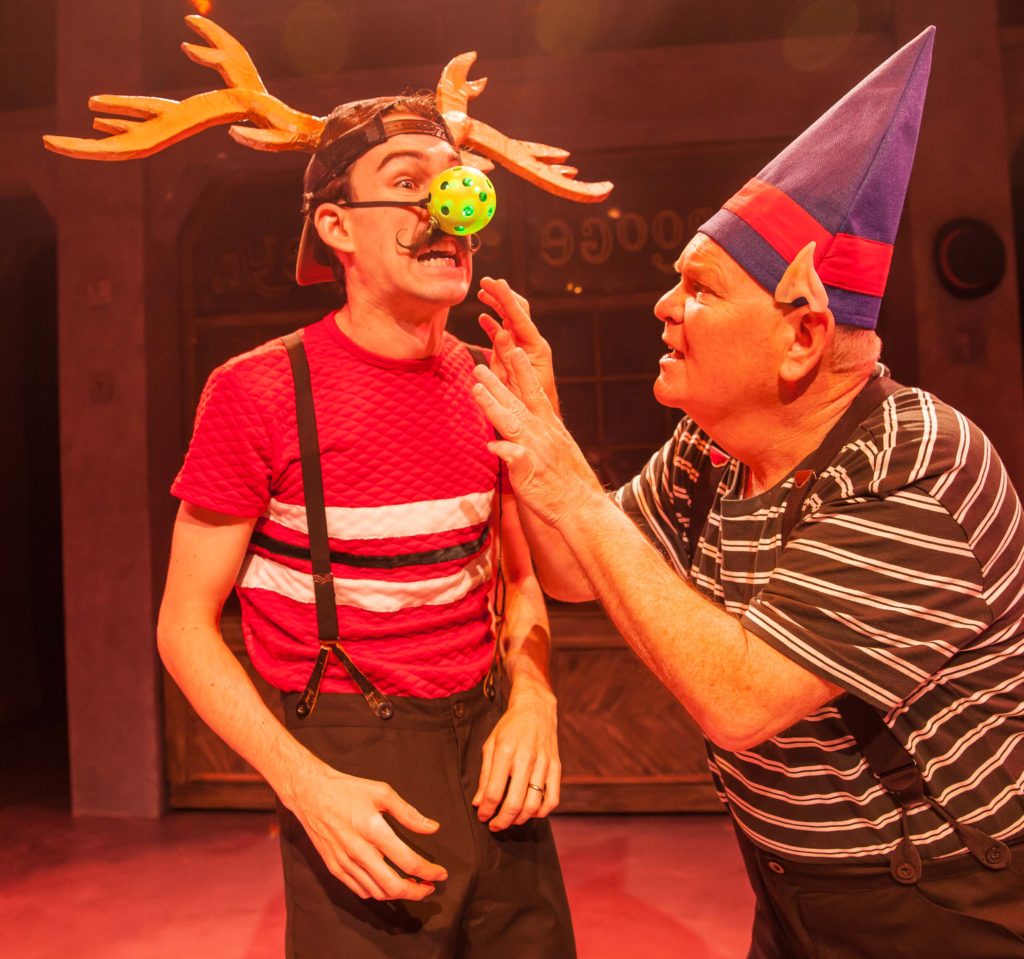 The second act of Every Christmas Story Ever Told (And Then Some!) finally gets around to A Christmas Carol, but it's unlike any version ever staged at the Hippodrome. Without giving too much away, let's just say it ends up being a mashup of the Charles Dickens tale and another, um, wonderful holiday classic the cast conveniently overlooked in the first act.
Lynge, who has performed a handful of times in A Christmas Carol at the Hipp, said Every Christmas Story Ever Told (And Then Some!) is sort of an inside joke for theaters that have repeatedly staged the timeless Dickens story of redemption.
"We're poking fun at ourselves, but we're poking fun at ourselves in a way because it's something we love," she said. "We love A Christmas Carol.' … It's all done from a place of love and enjoyment and just happy memories."
All three actors from Every Christmas Story Ever Told (And Then Some!) have histories with A Christmas Carol. Wolfe has played Fred, the Ghost of Christmas Present and other smaller characters. Foley has played Ghost of Christmas Past "many times" and Chambers has gotten to say "Bah humbug!" on a number of occasions.
"I was ole Scrooge for five years running at the now-defunct Seaside Music Theatre in Daytona," he said. "That was a precious run, and getting to play this lampoon version is even more fun.
"Oddly, I still want to say the real words instead of the new, fractured script words. But there is always something so compelling, even in spoof, in the epiphany. Scrooge's transformation is a classic no matter how it is told."
One scene from Every Christmas Story Ever Told (And Then Some!) addresses the touchy subject of whether Santa exists. Lynge said she is not worried how audience members — young or old — will respond to the playful debate onstage.
"I don't think anybody's going to walk away from that scene thinking Santa's not real," she said. "They're going to take away whatever version works for them. The kids will believe in the physical Santa Claus and the adults will be reminded that Santa actually does exist."
Some scenes in Every Christmas Story Ever Told (And Then Some!) involve audience members, adding an improvisational element to the show.
"I haven't done a ton of audience interactive pieces, and I'm really looking forward to having an audience to interact with," Wolfe said. "With live theater, you never know what's going to happen [anyway], and when you bring in a total wildcard out of the audience, you never know what's going to happen, but it's exciting and it's fun."
Foley, a Chicago-based actor, has performed with the Second City improv troupe and is looking forward to making audiences laugh again.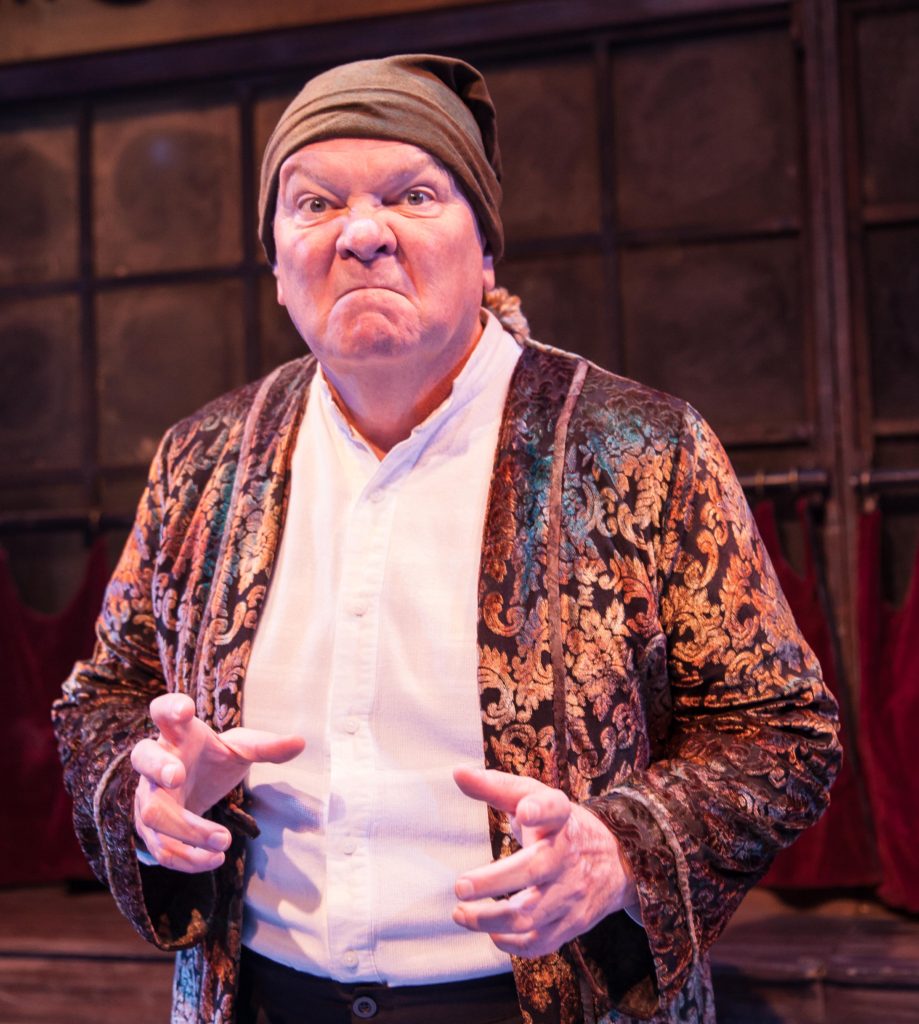 "The last two plays I've done have been very dramatic, so this has been so much fun because I consider myself a light-hearted person," she said. "It's nice to not have to scream and cry and to leave a rehearsal feeling happy. And I feel like everyone who sees the show is going to be happy. It's a breath of fresh air!"
Chambers, based in San Francisco, is returning to the Hippodrome for the first time since performing in drag in The Legend of Georgia McBride last year. He is also known for performing in such Hippodrome holiday shows as A Tuna Christmas, The Santaland Diaries and The Ultimate Christmas Show (Abridged). 
"I have always loved the seasonal show slot," Chambers said. "The Hippodrome is such a special place during the holidays. The folks that attend, it may be their only show of the year to be a part of. I love that.
"Professionally, I'm just wowed by sharing the intimate space with Logan Wolfe, and he is just a knockout in the show. And so is Miss Ali Foley, but to be able to have a holiday show with an old friend is special in its own way."
Lynge had some final advice for any Scrooge who might want to skip Every Christmas Story Ever Told (And Then Some!).
"Come and laugh your patootie off!"
— Noel Leroux
---
Every Christmas Story Ever Told (And Then Some!)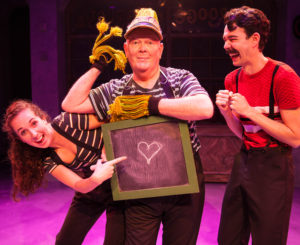 at the Hippodrome Theatre
25 SE 2nd Place
Gainesville, FL 32601
Box office: 352.375.4477
Six performances a week through Dec. 23.
To purchase tickets and for further info, visit the Hipp website.
Follow the The Hippodrome on Facebook.
* Please let us know what you think of the production. Leave a Reply below!