Downtown Gainesville's newest brewery decided to open earlier than expected to take advantage of FEST 17 and this week's UF Homecoming.
---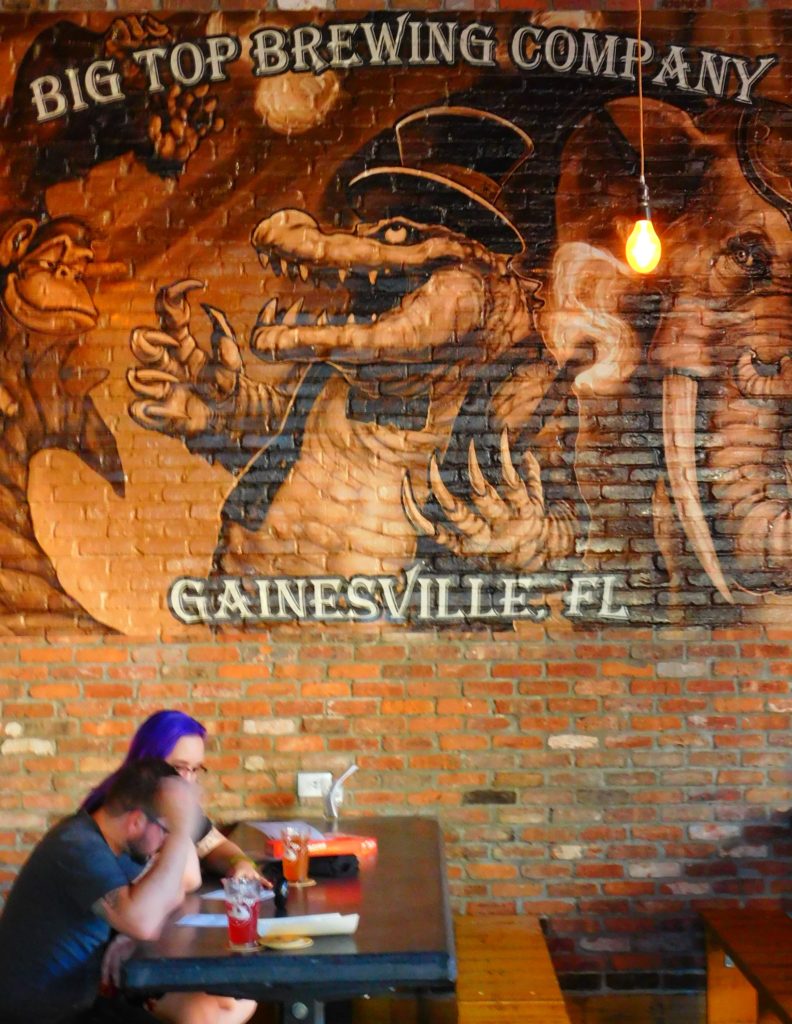 Attendees of FEST 17, the punk rock music festival that took over downtown Gainesville this weekend, got to experience the downtown area's newest craft brewery before many of the locals did.
Big Top Brewing Company had a soft opening on Friday, much to the delight of thirsty punk rock fans — not to mention the brewery's management team. In fact, the brewery did a steady business all weekend.
"When we heard FEST was here, we decided we needed to at least get the beer part up and running," said Lynn Long, Big Top's general manager. "During our soft opening, just handing out flyers, we filled this place up three times in one night."
This place is 201 SE 2nd Ave., on the northeast corner of Union Street Station. The 4,000-square-foot space was previously occupied by Celebrity's Soul Food and, before that, 101 Downtown.
Big Top Brewing Company started in Sarasota in 2013 and also has a brewery/restaurant location in Pensacola. Mike Bisaha, Big Top CEO, decided to open his third location in Gainesville because his wife's family lives here.
Big Top is known for its unusual beer flavors such as Chocolate Peanut Butter, Peanut Butter and Jelly and Honey Jalapeño. Its Hawaiian Lion Toasted Coconut & Coffee Porter is one of its more popular flavors. The brewery has a circus theme because Sarasota was once winter home to the old Ringling Bros. and Barnum & Bailey Circus.
Although brewing equipment has been installed inside the Gainesville brewpub, the 20 varieties of Big Top flowing from the taps this weekend were brewed in Sarasota.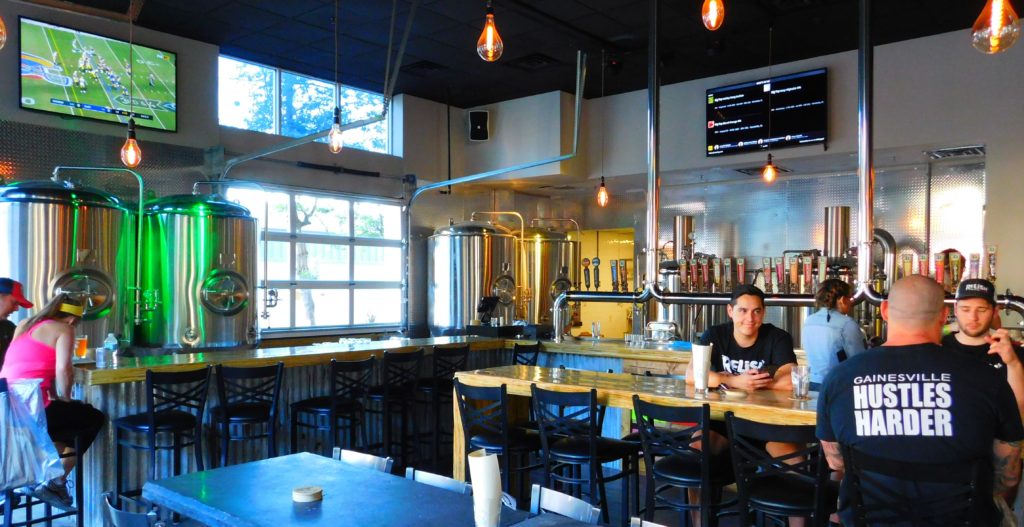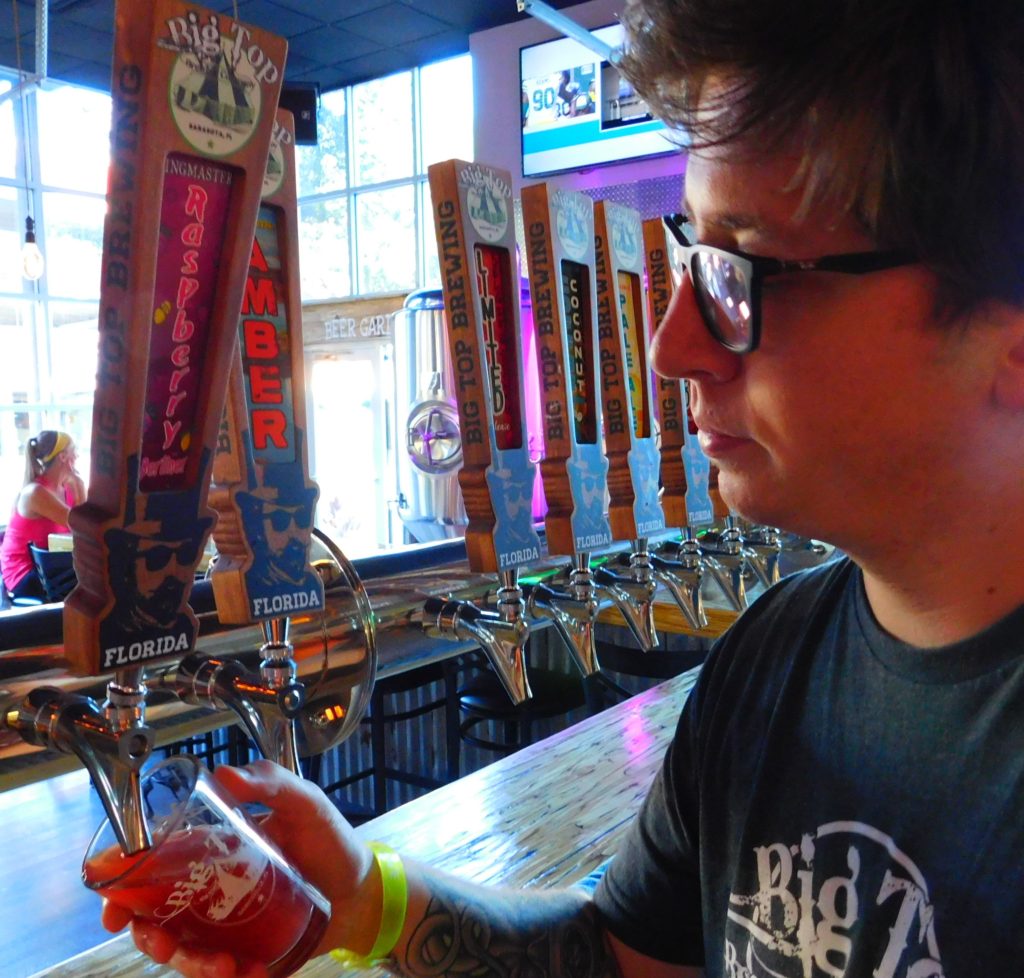 "We'll probably start brewing here in mid-November," Long said, adding that the owner are awaiting a permit license from the city.
Later this week, Big Top will begin offering a pub-style food menu that includes appetizers, tacos, sandwiches as well as vegan-friendly options.
Hours will be Monday through Thursday 11 a.m.-midnight, Friday and Saturday 11 a.m.-2 a.m. and Sunday 11 a.m.-8 p.m. Sundays will feature a brunch that includes bottomless mimosas, Long said.
On Sunday, patrons watched NFL games on several large-screen TVs inside the breezy space while others played Foosball and air hockey in a separate game room. Sophia Marchetti and five of her friends played a rowdy game of Cards Against Humanity as a mild breeze and punk rock music from Bo Diddley Plaza wafted through a large open window.
"It's absolutely awesome!" Marchetti said of the brewpub. "It's all about location. The fact that it's in downtown Gainesville gives it so much accessibility to everyone, whether you're a college student of drinking age or a member of the Gainesville community. Everyone can enjoy this place."
Plans call for an outdoor beer garden on the east side of the brewpub in what was once a drive-through lane.
In addition to offering the 20 varieties of Big Top Brewing Company beers, the drink menu over the weekend had four "guest" beers, including two from Gainesville's First Magnitude Brewing Co., one from Swamp Head Brewery and a key-lime cider from 3 Daughters Brewing in St. Petersburg.
"We're getting great feedback on the variety of beers we're serving," said Long, who was still glowing on Sunday after Big Top's large opening turnout.
"We just want to thank Gainesville for being so welcoming," she said. "We look forward to being here a very long time."
— Noel Leroux
---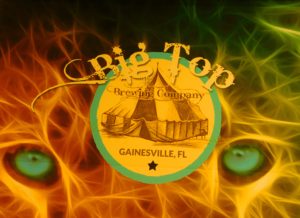 Big Top Brewing Company
101 SE 2nd Ave., Suite 101
Gainesville, FL 32601
For further info, visit the Big Top Brewing Company website.