Longtime friends Nell Page and Sara Morsey get to poke fun at each other in David Lindsay-Abaire's retirement-home comedy that opens this week on the Hippodrome's mainstage.
---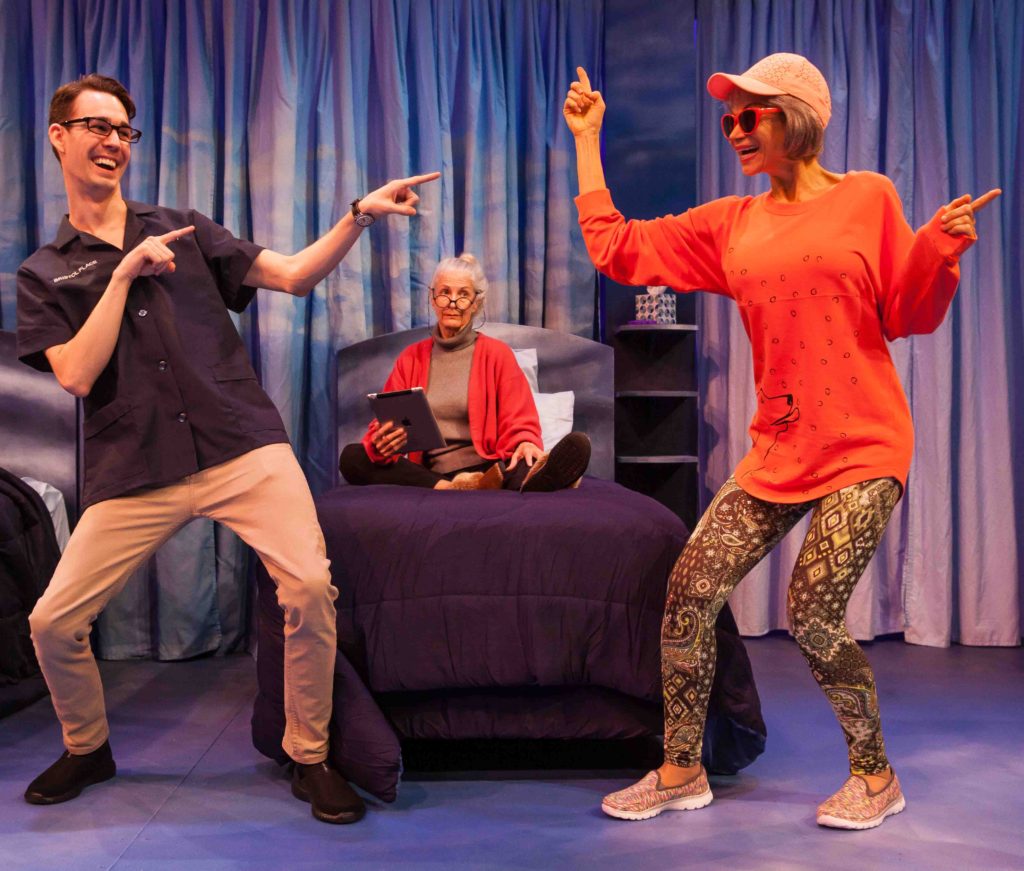 When television audiences of old needed a good laugh, they often tuned into Lucy and Ethel in the 1950s and Laverne and Shirley a couple decades later.
Starting this week, the Hippodrome Theatre will have its own funny female duo making audiences laugh when what could be called "The Sara and Nell Show" takes over the mainstage.
Sara Morsey and Nell Page have shared the Hipp's stage on numerous occasions during the past quarter-century. This time around, they co-star in David Lindsay-Abaire's rip-roaring situation comedy Ripcord, about two roommates in a retirement home who go to extremes to try and settle a simple bet.
Ripcord has discounted preview performances Wednesday and Thursday at 7 p.m. leading up to Friday's Opening Night at 8. There are also performances on Saturday at 5 and 8:30 p.m. and Sunday at 2 p.m. and then seven performances a week through March 25.
In Ripcord, Morsey plays Abby Binder, a cantankerous widow who finds sinister ways to chase away any hapless roommate her retirement home sends her way. Page plays Marilyn Dunne, a senior-citizen spark plug assigned to Abby's room and who has no intentions of leaving.
The fun begins when the two women make a friendly wager: Abby gets the room to herself again if she can make the mild-mannered Marilyn lose her temper; Marilyn gets the bed closest to the window if she can scare the daylights out of the typically unfazed Abby. The first one to accomplish her mission wins.
Ripcord then goes on a wild ride that includes a visit to a spooky Halloween house, a breathtaking skydiving adventure (thus, helping lend the play its name) and several other outrageous pranks involving everything from Craigslist to Xanax— not necessarily all in good fun or good taste.
"David Lindsay-Abaire's imagination is extraordinary," said V Craig Heidenreich, who is making his Hippodrome directorial debut with Ripcord. "He goes where no one else goes. He's fearless — like skydiving!"
What makes Ripcord work, however, is the chemistry Morsey and Page display onstage as their characters try to push each other's buttons with one practical joke after another.
"The playwright is brilliant in creating a story-line that presents characters who are real and dealing with a variety of situations that any audience can relate to," Page said. "What makes the play funny is that he takes ordinary situations and spins them to ridiculous levels. And there are so many of those situations in this show."
Morsey and Page first joined forces at the Hippodrome in 1992.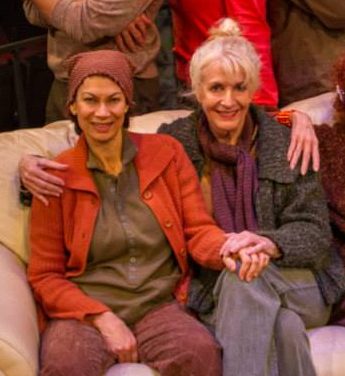 "Our first show together was Earthly Possessions," Morsey said. "It was an adaptation of an Anne Tyler novel. Nell and I played two different sides of one character. … I can't remember all the plays we've done together."
Some of those shared productions include Our Town, To Kill a Mockingbird, Indiscretions, The Carpetbagger's Children, Night of the Living Dead, Dinner with Friends, Good People and, most recently, Vanya and Sonia and Masha and Spike.
"Along with countless Christmas Carols, some with her kids," said Morsey, referring to Page's two children, Molly and Will. "When I think of A Christmas Carol, I definitely think of Nell."
The women, both members of the Hippodrome Acting Company and Actors' Equity Association, have also collaborated on a picture book. Page provided the text and Morsey the illustrations for A Knowing.
"First and foremost, Sara and I have a lot of respect for each other as artists," Page said. "We talk about the dressing room being a shared sanctuary. I trust her onstage and I trust her off stage, and I only want the best for her. To me, that's what a real friendship is."
Morsey wholeheartedly agreed.
"We've probably bonded more over the years because of our shared love of theatre than anything else," she said. "But we share a lot of laughter and a lot of soul searching about life in general and our reactions to it.
"There is probably no topic that we have not discussed in some way, shape or form. We laugh about how we can come up with an answer for everything — sometimes based only in our shared absurdity."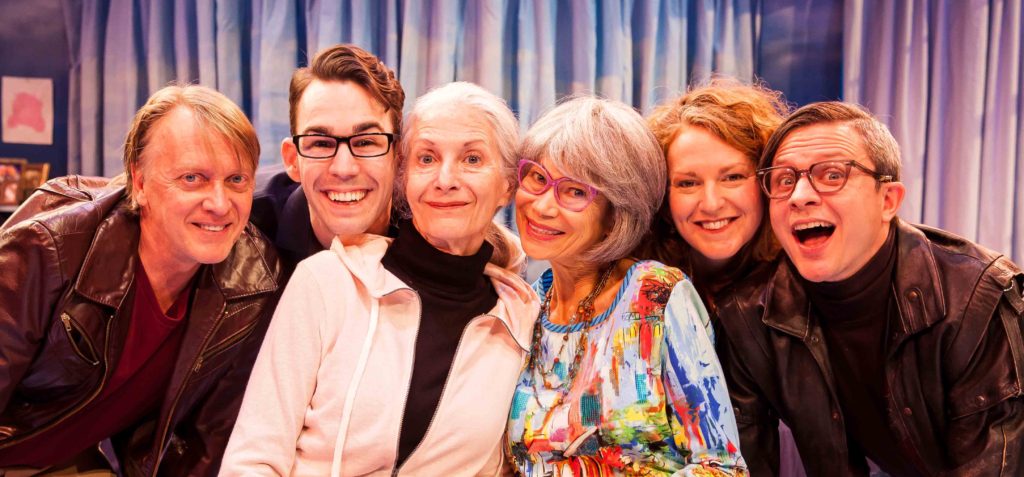 In Ripcord, Page and Morsey are surrounded by a talented ensemble that includes Hippodrome Acting Company members Logan Wolfe, Bryan Mercer and Niall McGinty. Meanwhile, Arkansas-based Laura Shatkus returns to the Hipp's mainstage after playing Syme in the season-opening production of 1984.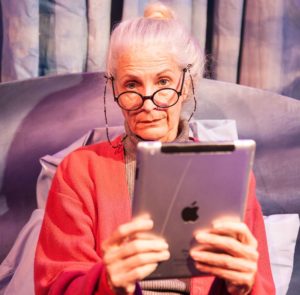 As Abby, Morsey plays an introvert who values her privacy and refuses to get excited about much of anything, whereas Page's Marilyn is outgoing and sees beauty in the most simple things in life. Both characters, however, are protective of their pasts.
"There's a lot of Marilyn in me, for sure," Page said. "You always try to find something in that character that touches your own heart. Marilyn is more high-energy while Abby is more cerebral."
Morsey said that she always develops her characters first by focusing on her similarities with that character rather than differences.
"Any actor has to find all the parts that are required by the character within herself," she said. "I do tend to exhibit some 'Abby' characteristics in my everyday life, but we all pick and choose what we show to the world."
Likewise, she added, "I feel like 'Marilyn' is like Nell in that she always tries to look on the bright side and she always presents an upbeat persona. She's a very lovable and likable person with a family who sticks with her. But that's not everything she is. …"
Just remember that, with Ripcord, all bets are off!
— Noel Leroux
---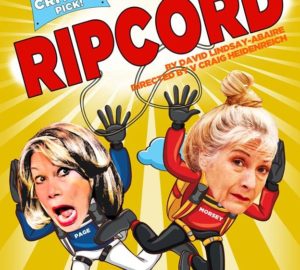 Hippodrome Theatre
25 SE 2nd Place
Gainesville, FL 32601
Box office: 352.375.4477
Seven performances a week through March 25.
To purchase tickets and for further info,
visit the Hipp website.
Follow the The Hippodrome on Facebook.
* Please let us know what you think of the production. Leave a Reply below!