After a heart-thumping run of 1984 to start its season, the Hippodrome Theatre lightens things up with a hilarious production of The Legend of Georgia McBride, about an Elvis impersonator at a Florida Panhandle dive bar who reluctantly becomes a drag queen.
---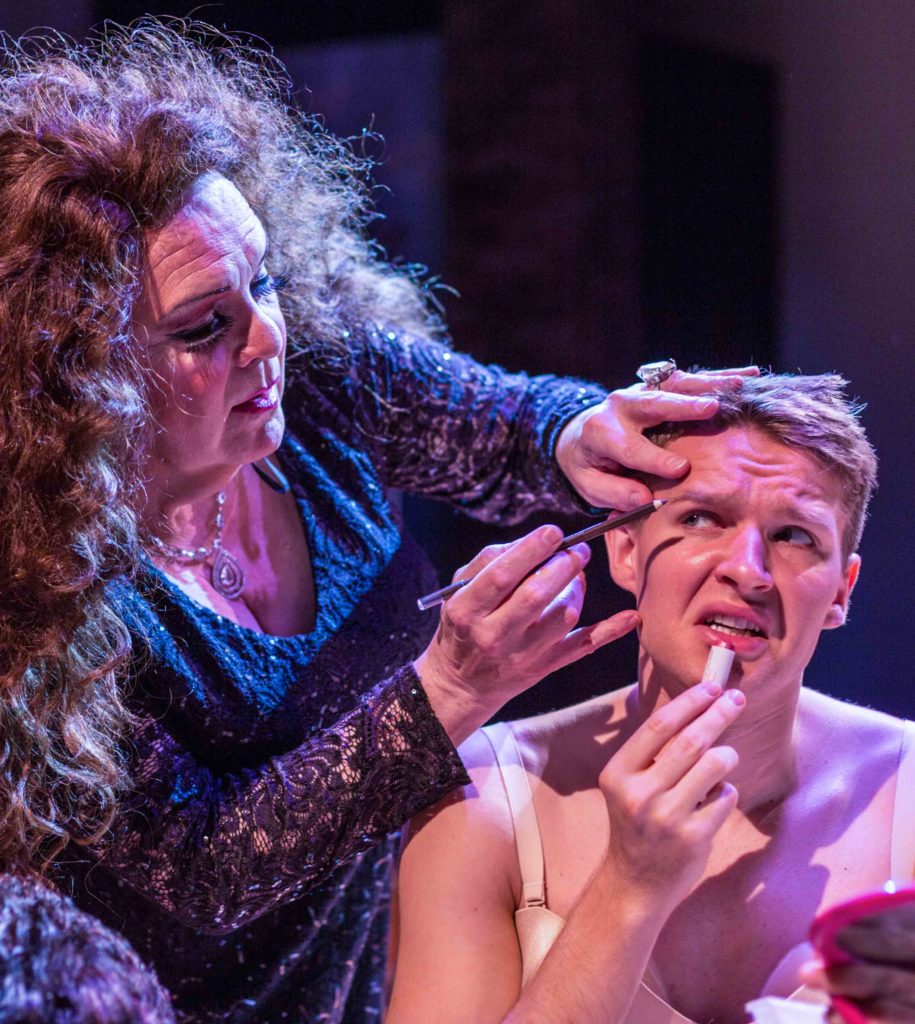 If you are planning to see The Legend of Georgia McBride at the Hippodrome Theatre in the coming weeks, here's a suggestion: stock up on dollar bills beforehand.
That's because once the production's drag numbers begin, you'll be reaching into your purses and wallets for some singles to tip the lip-syncing performers strutting their stuff across the Hipp's mainstage.
Truth be told, you won't need to pay more than the price of admission to enjoy the laugh-out-loud comedy written by Matthew Perez and directed by Stephanie Lynge.
"I can't wait for the audiences to come — they're going to be blown away," said Lynge, who also choreographed the show.
The Legend of Georgia McBride, about an Elvis impersonator who trades in his blue suede shoes for the black stilettos of a drag queen, opens this week at the Hippodrome Theatre, 25 SE 2nd Place.
There are discounted previews ($18) on Wednesday and Thursday at 7 p.m. leading up to Friday's Opening night at 8. There are also performances on Saturday at 5 p.m. and 8:30 p.m., Sunday at 2 p.m. and 7 p.m., and three weeks to follow.
The story centers around Casey (Jon Kovach), whose hip-gyrating Elvis routine at Cleo's bar on Panama City Beach is keeping customers away in droves, much to the chagrin of bar owner Eddie (Charlie Mitchell). That's unfortunate because Casey's rent check just bounced again and his wife, Jo (Caroline Strang), just found out she's pregnant.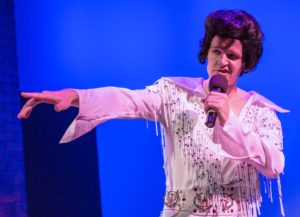 Things get interesting when Eddie hires his drag-queen cousin, Bobby (Mark Chambers), to give Cleo's a makeover. Bobby, known in the drag world as Miss Tracy Mills, has a sidekick/diva named Anorexia "Rexy" Nervosa (Kevin Kantor), who's a train wreck that's already happened.
Before he can say  "RuPaul who?" Casey gets dragged into the drag show. And the mayhem begins.
"Mark and Kevin have both done drag before, and Jon has never done drag before, so this has been a really, really fun experience for them," Lynge said. "Learning the drag movements — the entire way a woman carries her body — is very different from the way a man carries his body."
Kovach, who made his Hippodrome debut earlier this year as the owner of a demonic sock puppet in Hand to God, displays deft comedic timing in his role as Casey-turned-Georgia McBride.
"It's my first time in heels, so I've learned what that's like," he said. "My first time doing extensive makeup, so I've learned what that's like, and about the drag culture in general. It's been a lot of new information."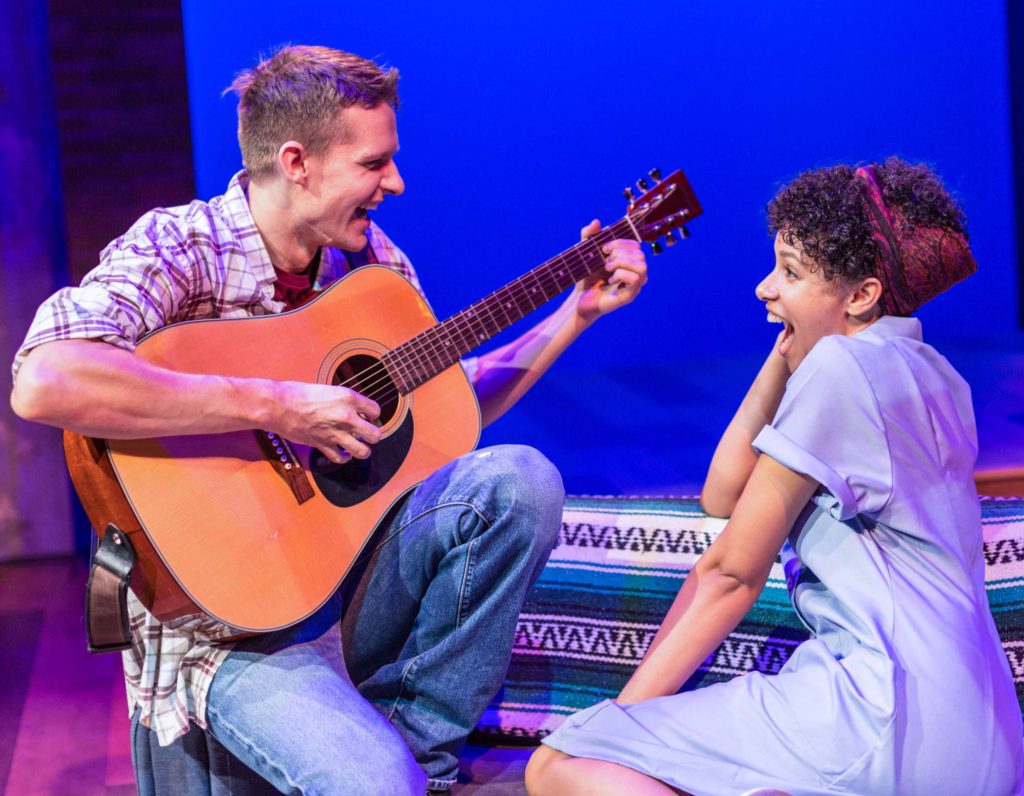 In The Legend of Georgia McBride, Casey is a big hit as a drag queen to the point where he questions his own gender identity.
"It's a very interesting question as to what is feminine and what is masculine," said Mitchell, who teaches theater at UF and whose most recent Hippodrome role was in Hamlet.
It's good to have a story, but what audiences will likely remember most about The Legend of Georgia McBride are the drag numbers performed by Kovach, Chambers and Kantor and the dizzying array of dazzling costumes each one wears during the frenetic production.
"There are lots and lots and lots of costumes; tons of costumes, really," Lynge said. "It's part fashion show almost, especially the montage scene. I can't wait for the audience to come and be blinded by all the sparkle!"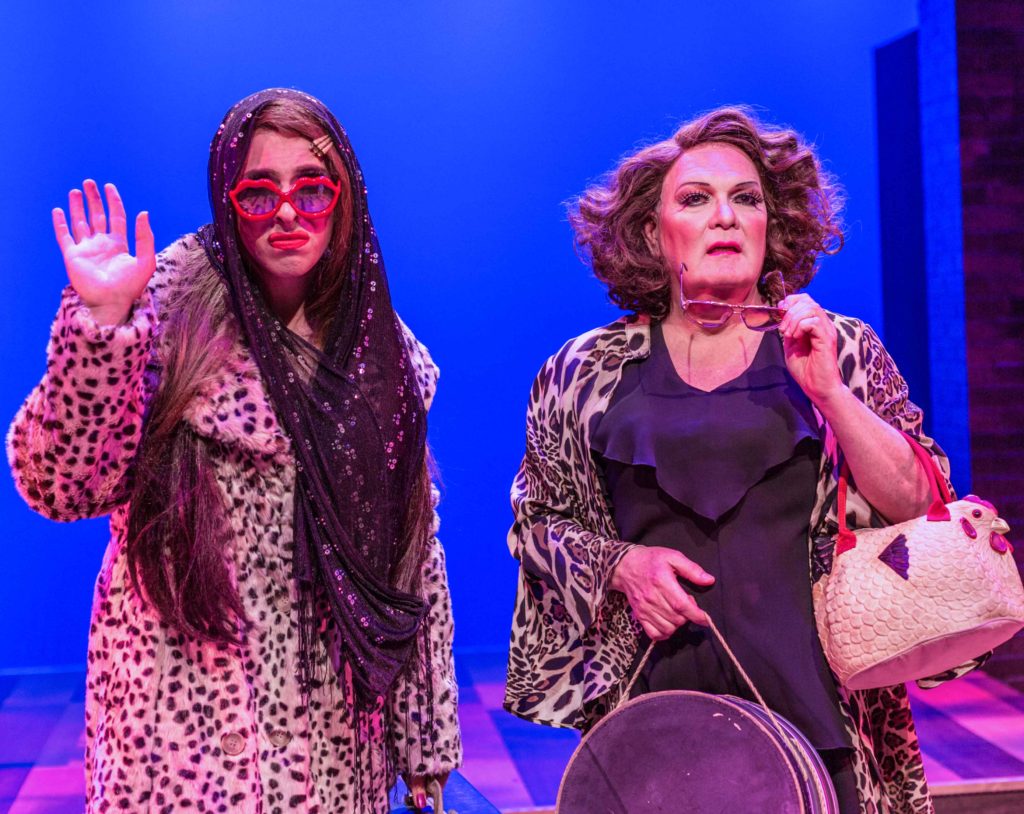 Kantor, a Chicago native, is making his Hippodrome debut but has an extensive background in drag. In fact, his real-life drag persona is Ana Tevka (think Fiddler on the Roof).
"She's an an old Jewish woman," Kantor said. "So Rexy is sort of on the other end of that spectrum, a little bit more hard-edged, a little more skin and flash."
Although Casey and Rexy have their moments in the spotlight in The Legend of Georgia McBride, it's Miss Tracy who delivers the funniest lines.
"If you didn't have breasts," Miss Tracy explains to Casey in one scene, "the world would cease to function."
Chambers, a member of the Hippodrome Acting Company along with Mitchell, said The Legend of Georgia McBride is about an extended family and that Miss Tracy is the matriarch.
"It's a motherly role, in a way," Chambers said. "Her dream is coming true even though it's not in the space she wanted it to. She gets to see what she has built and wanted."
Chambers has a history of playing women's roles onstage, beginning at 13 when he performed as the queen in Hamlet. Just last year, he brilliantly played the Joan Crawford role as wheel-chair bound Blanche Hudson in the Hipp's production of Whatever Happened to Baby Jane?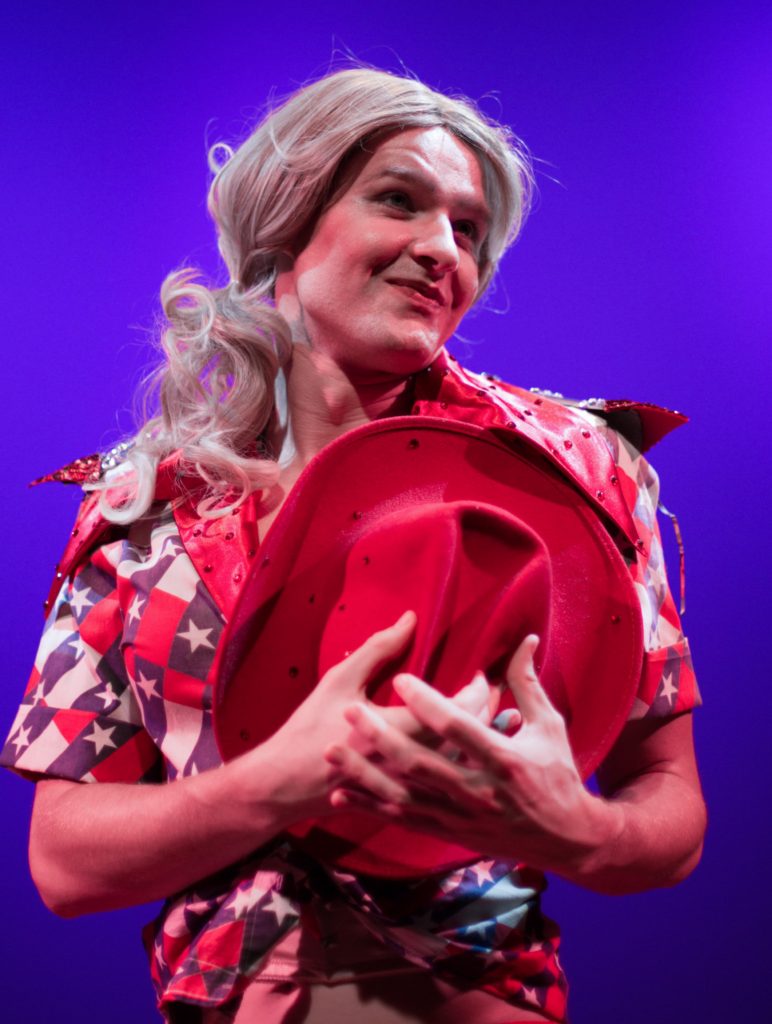 He's also played, among other female roles, Arnold Beckoff in Torch Song Trilogy, Mary Sunshine in Chicago, Fraulein Kost in Cabaret, the drag queen in A Tale of Two Cities and 12 years of A Tuna Christmas.
"[Female roles] just came to me as a character actor," Chambers said. "I would be too nervous to go into a real bar with the real drag queens because that is a completely different way than what we do onstage. It's controlled. We know what we're going to wear, we know where all the lights are, and all the support makes you look better. In bars, they throw things at you, you know?"
Strang finds herself as the only biological female in the cast of The Legend of Georgia McBride. The Alaska native is also making her Hippodrome acting debut.
She said that she can personally relate to her character of Jo because her boyfriend, a graduate of the UF masters program in theater, once spent a year researching the lead role in Angels in America. In other words, a straight man playing a gay character.
"Coming from a very conservative background, I had to learn that it was okay for men to be feminine, to be effeminate," she said. "He was exploring his femininity and I was feeling really weird about it. It took me a long time to accept that a man can be in love with me and want to be with me and also have female characteristics and how natural that was.
"Taking Caroline out of the character to allow Jo to be there and really shine was part of my character I'm still working through."
The Legend of Georgia McBride continues through Nov. 5 with eight shows a week. There will be a special $10 Tuesday on Oct. 17 (all tickets $10) and Pride Night on Oct. 28 hosted by the Pride Community Center and the Hipp. For that 5 p.m. show, all tickets will cost $15, with $5 going to the Pride Center.
— Noel Leroux
---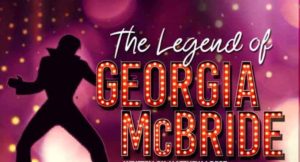 Hippodrome Theatre
25 SE 2nd Place
Gainesville, FL 32601
Box office: 352.375.4477
Eight performances a week through Nov. 4.
To purchase tickets and for further info,
visit the Hipp website.
Follow the The Hippodrome on Facebook.
* Please let us know what you think of the production. Leave a Reply below!