The Acrosstown Repertory Theatre opens its 2017-18 season with Michael Presley Bobbitt's heartwarming comedy/drama about finding humanity in the least likely place. Even a goat named Mabel has a role to play!
---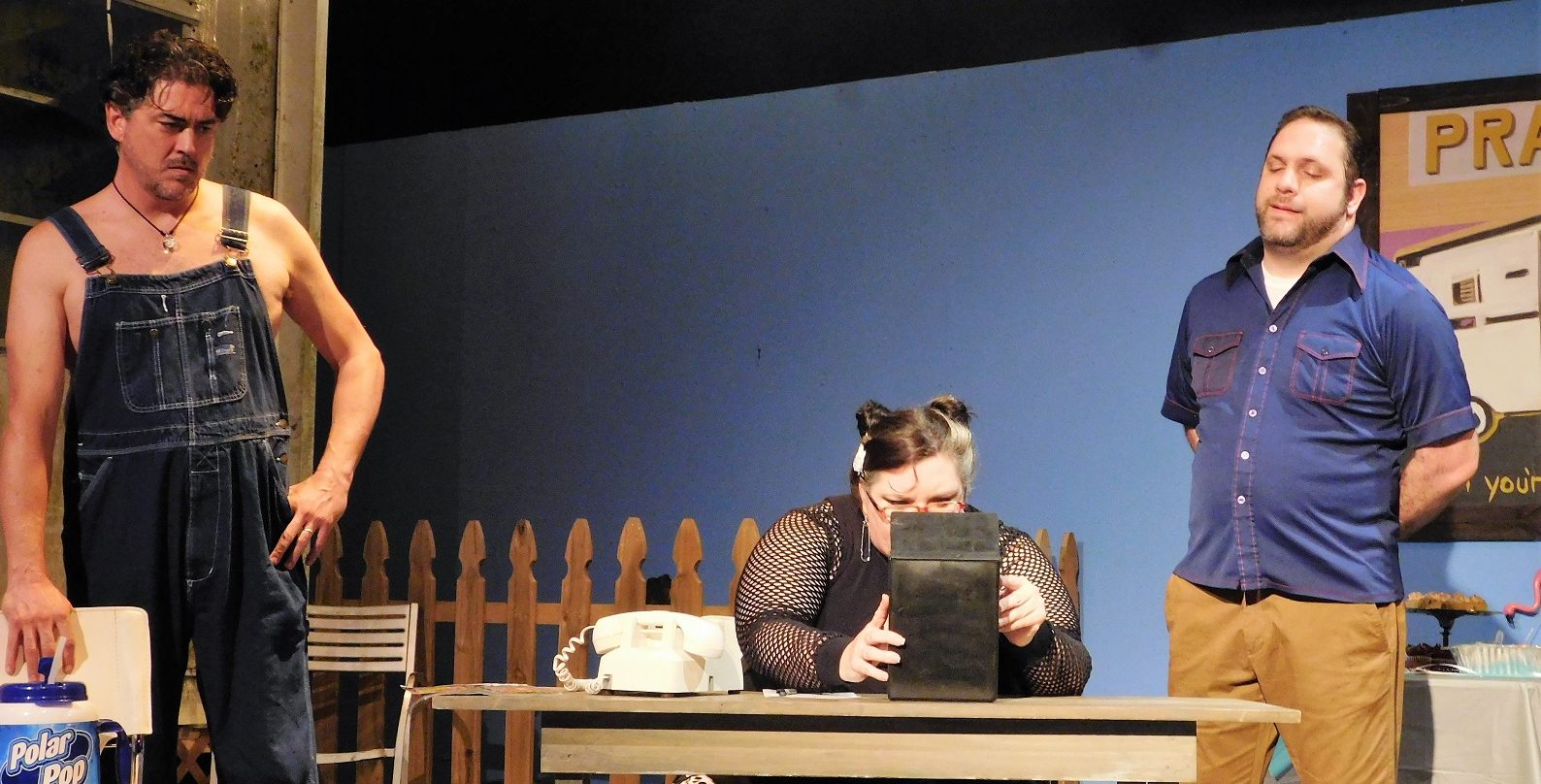 Michael Presley Bobbitt wants to change the perception many people have about those who reside in trailer parks. After all, he grew up in "mobile home communities" in Polk County and still turned out pretty good. Or so he says.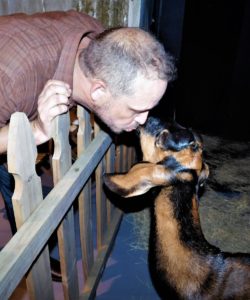 "When you see a low-income neighborhood, there's a tendency to think they're low-class people living there," he said. "That's not always the case."
In an attempt to sway public opinion in the opposite direction — and to share a good story — Bobbitt has written the play Trailer Park Elegy. The comedy/drama makes its world premiere this week onstage at the Acrosstown Repertory Theatre, 619 S. Main St. (in the Baird Hardware Complex).
A Thursday night $5 preview will lead up to Friday's 8 p.m. Opening Night performance. There will also be performances Saturday at 8 p.m. and Sunday at 2 p.m. Trailer Park Elegy continues on weekends through Sept. 17.
"I'm showing a community that's full of loving people who are more than they appear to be," said Bobbitt, who is also directing the play. "These characters are an extended family."
Trailer Park Elegy follows the saga of Elijah (Michael Glover), who manages the Prairie View trailer park in Paynesville, which might as well be Gainesville. The play opens with Elijah discovering the cremated remains of a former resident that's been collecting dust — if that's even possible — for nearly two decades on the shelf in a storage area.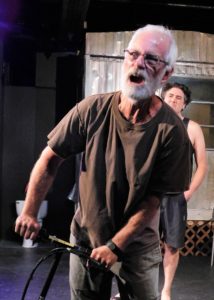 In an act of self-preservation, Elijah decides the woman deserves a dignified memorial service only to find out too late that the little old lady, Christine Ellison, was anything but sweet.
"She was a looneybird racist!" decrees Sham-Sham, an older park resident who rides around on a Razor scooter and feels obliged to keep his fellow Prairie View residents up to date with a daily podcast. "I never met a more unpleasant woman."
But Sham-Sham (played by Shamrock McShane) has his own secrets, which he divulges to a real-live goat named Mabel in one of the more memorable scenes you'll ever witness in local theater.
The cast also includes Marival Parish as Sarah, Elijah's wife; Mandy Fugate as Kate, the trailer park's office assistant; Scott Gross as Mario, the park's loyal maintenance man; and Chuck Lipsig, who plays three roles: Chen, a park resident with 95 cats, the mayor of Paynesville and a mad-scientist inventor living in the park not coincidentally named Lipsig.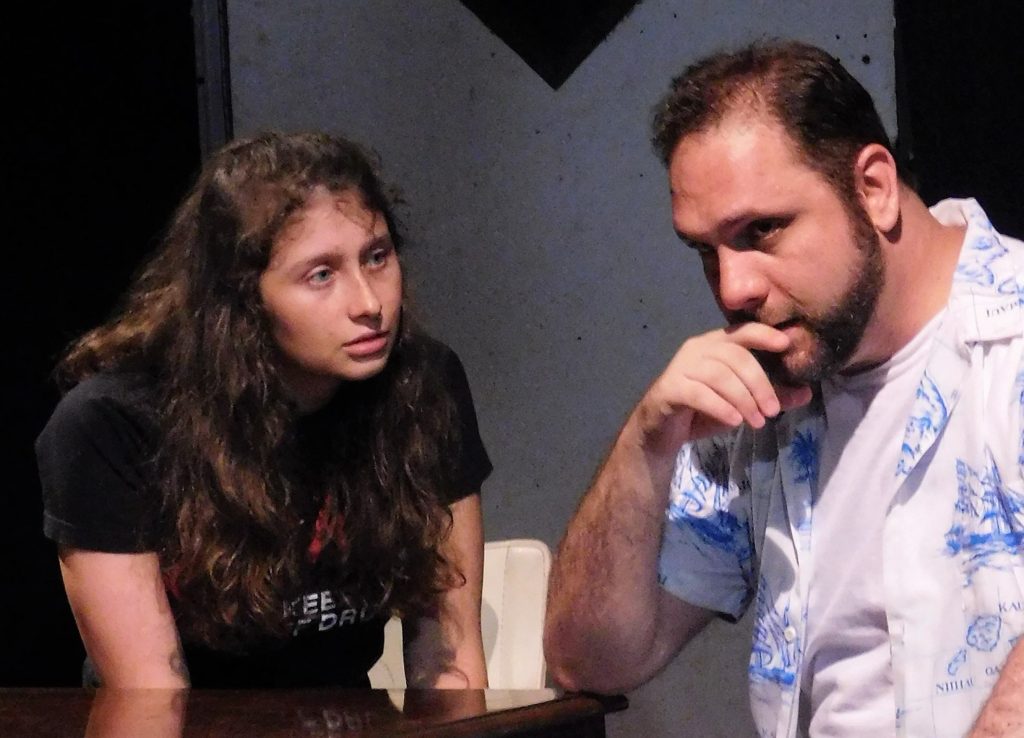 But Bobbitt's story centers around Elijah, who works at Prairie View to stay under the radar from a dark episode in his recent past.
"He's a broken person," Bobbitt said. "He sees his horrible failings."
Elijah convinces himself that finding the dead woman's lost humanity might lead to his own redemption.
"He's a regular guy, but he had some problems in the past when he lost everything except his fiance," said Glover, whose most recent ART productions include Commander and Pillowman. "It's a play about finding humanity in everybody."
Bobbitt wants people to see the humor during Trailer Park Elegy, but he also wants them to think.
"For this play, I hope that audiences will consider where the line in the sand lies beyond which we lose ourselves as human beings," Bobbitt said. "Further, I hope the play challenges us to push that line out as far as possible, in accordance with the subversive, radical idea of loving our enemies … of finding a way to see value in even the worst among us."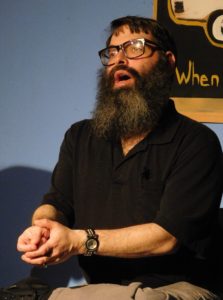 Trailer Park Elegy won the 2016 Gainesville Local Homegrown Playwrights' Showcase when it was titled The Dead Lady on the Shelf. Bobbitt earned the right to take his play from a staged reading to a full-fledged production.
"I love his playwrighting," said McShane, an Acrosstown Theatre veteran who most recently starred in Tom Miller's UMMU. "The great thing about a brand new play is that you never know what's going to happen next."
Bobbitt is enjoying every minute of the experience, including designing the set. He disassembled a single-wide mobile home and rebuilt one end of it onstage to serve as a backdrop. There's also the obligatory plastic pink flamingo over a toilet.
He even had good friend Miller (of UMMU fame) create the Prairie View sign complete with the slogan "When you're here … you're home."
The best part of the set, however, is the picket-fenced pen occupied by none other than Mabel, a 2-year-old goat that won an audition for the part. No, really.
"I have goats on my farm, but none of them were friendly or smart enough to play the part in the play," Bobbitt said. "I went to six different farms auditioning goats to play the part. When I first saw Mabel, she ran across the field and ran up to me and kissed me on the cheek."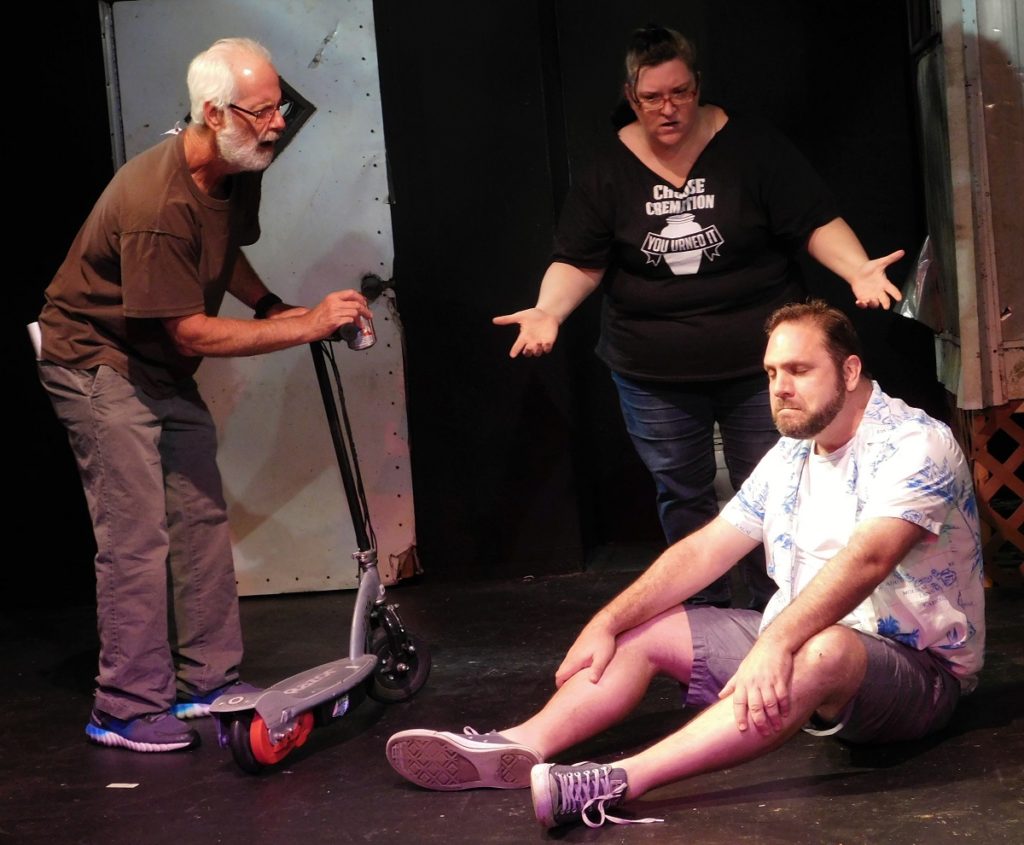 Bobbitt paid $150 for Mabel, and now she is a happy resident of his farm, Nevermind Ranch, in Gainesville.
"She is the most charismatic and interactive goat I've ever met," Bobbitt added.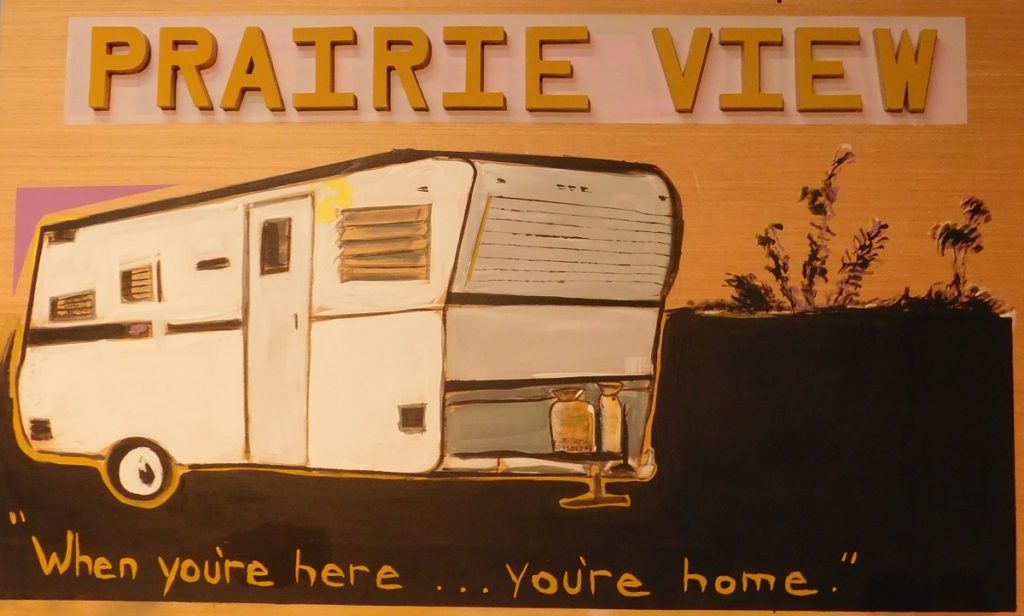 A week before his play's debut at the Acrosstown, Bobbitt was still making minor changes to the script. After all, it's his play and he can do with it what he wants.
"What's great about a new play is that when you first write it, you hear it in your ear a certain way," he said. "When you hear actual people say the lines, you tweak it here and there. I've been workshopping this for a year."
In fact, Bobbitt submitted Trailer Park Elegy to the Broadway Bound Theatre Festival in New York City. Of 3,000 entries, Bobbitt's play finished in the Top 20.
"I got remarkably detailed feedback on how I could make the play better, including expanding Shamrock's character," Bobbitt said.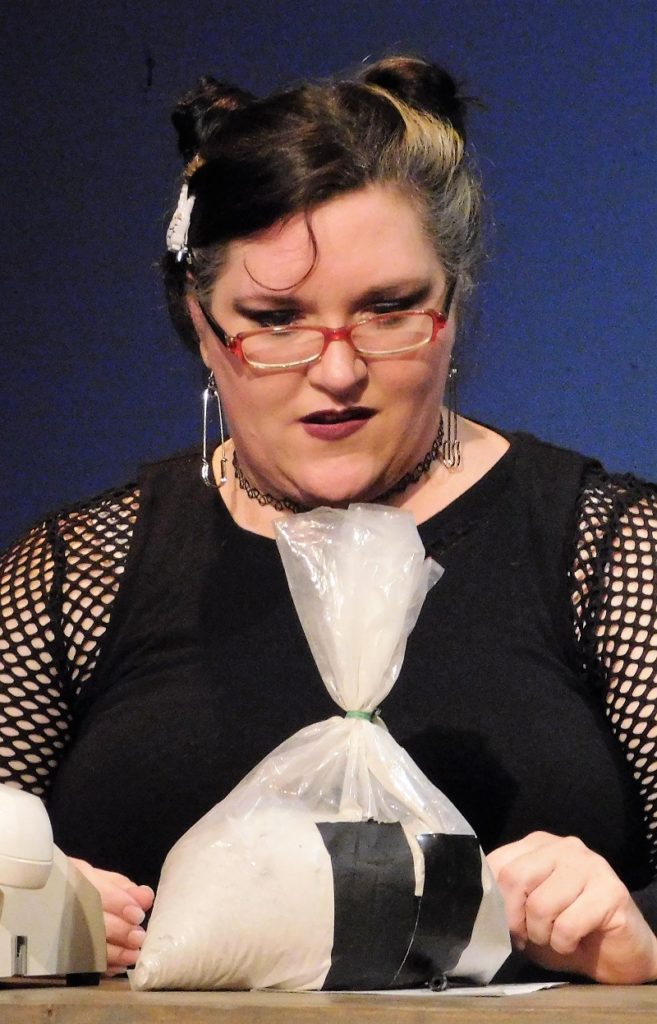 Like most good writers, Bobbitt got the idea for Trailer Park Elegy from a real-life experience.
"The real remains that are used in the play were actually given to me by my friend Kate, who manages a trailer park here in Gainesville," he said. "She found them sitting forgotten on a shelf for almost 20 years and brought them to me because she knew I was a writer and thought I might be able to put together a memorial service.
"Instead, I wrote a play analyzing what it means to have humanity and if it's possible to lose it."
One more thing about Bobbitt. How many other directors replace every seat in a theater before staging a play?
Earlier this summer, Bobbitt attended the UF Surplus Auction and won a bid for 73 cushioned, theater-style seats that were once part of a classroom. The total price: $105!
Bobbitt, his son Liam and family friend Barry Mitchell then went to work removing the Acrosstown's outdated seating as well as the risers they were bolted to. The new seats are even offset to improve sightlines.
Not to rest on his playwrighting laurels, Bobbitt has a new play that will debut as a staged reading during the 2017 Gainesville Local Homegrown Playwrights' Showcase in December. It's called Cedar Key and focuses on two men in the same family who make their living from the sea.
The promo pitch for this play is as follows: "Catastrophic hurricanes a century apart remake a place and two men in the same family searching for purpose in the world. Sometimes the answers are in the storm."
A unique feature of the production, according to Bobbitt, will be two boats hanging from the rafters with metal cables. One will be an 1890s sloop, the other a small modern-day crab boat. As the play moves back and forth from the late 1800s to modern day, the appropriate boat will descend, as more than half of the play takes in the Gulf of Mexico.
But for the next three weeks, Bobbitt's Trailer Park Elegy will be the play that Gainesville audiences will be talking about.
— Noel Leroux
---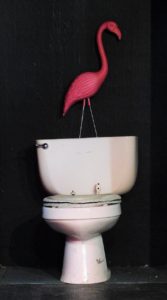 Trailer Park Elegy
Acrosstown Repertory Theatre
619 S. Main St.
(in the Historic Baird Center)
Gainesville, FL 32601
Tickets: $15 ($13 for students and seniors)
Performances: Fridays and Saturdays at 8 p.m., Sundays at 2 p.m., through Sept. 17.
For further info, visit the Acrosstown website.