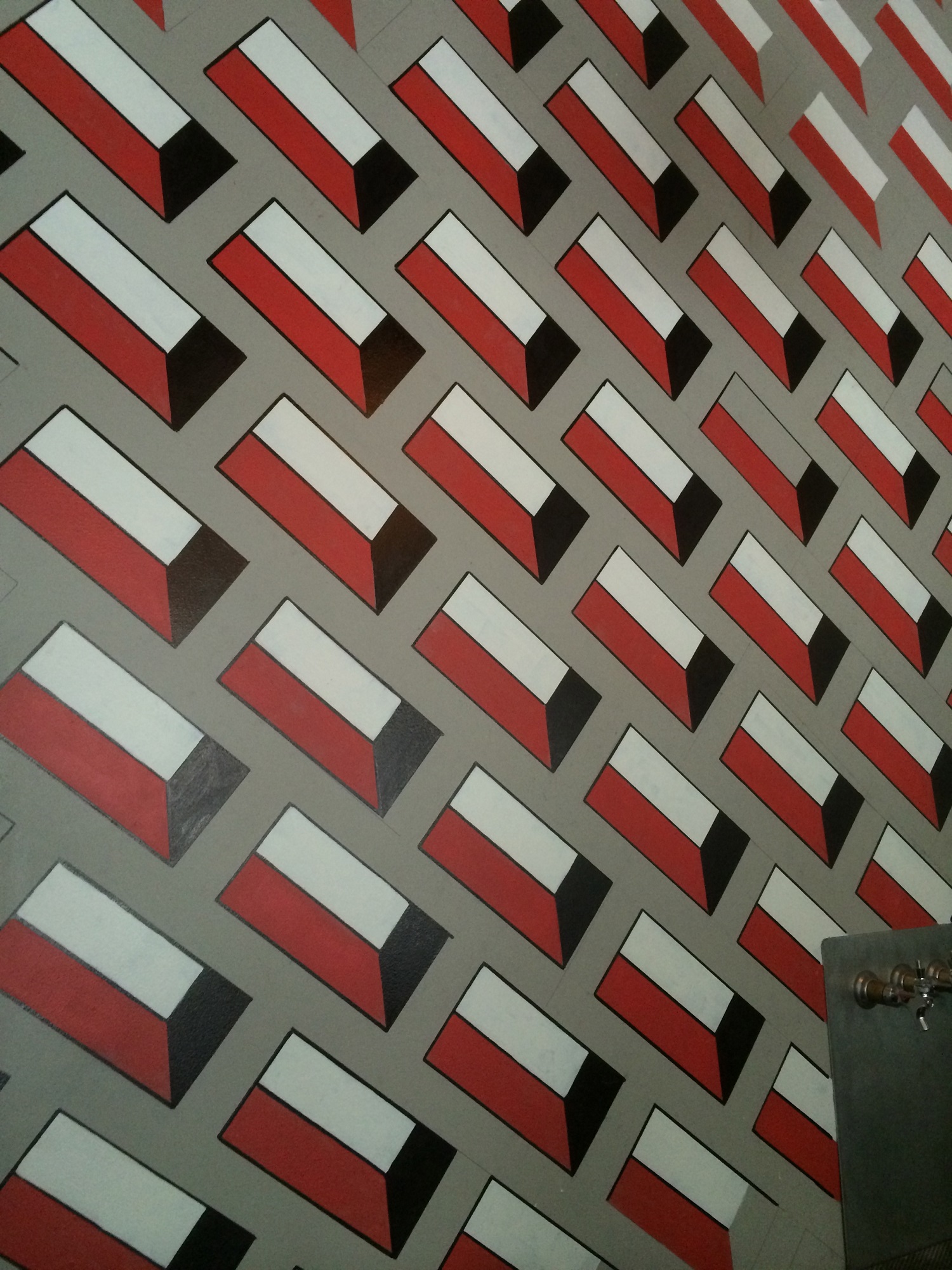 The owners took their time after it opened to finally give the business an official name, but the swanky little cocktail bar now known as The Dime is worth every penny to its patrons.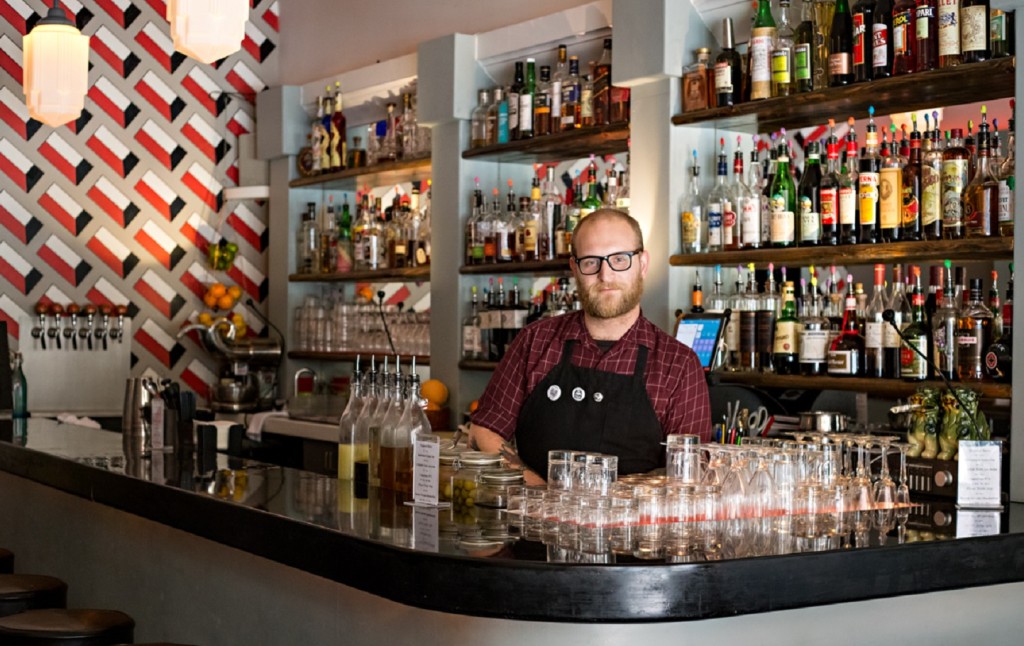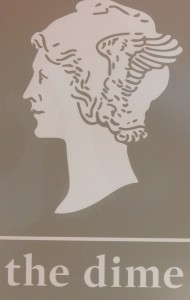 For all their business acumen in transforming the epicenter of downtown Gainesville into a hip place to be, Scott Shillington and Hal Mendez might have missed a great marketing opportunity when they finally got around to naming their "no-name" bar earlier this year.
As they pondered their decision, the obvious name was literally staring them in the face.
The Old Joe.
That's the nickname of the much-maligned Confederate statue that stands sentinel directly across University Avenue from the bar. He's right there, perched high atop a granite pedestal, his steely gaze burning through you from 50 yards away as you exit the bar's stubborn glass door. Late at night, hidden in the shadows beyond the streetlights, you'd hardly know Old Joe's there.
Yep, The Old Joe has a nice ring to it, evoking time-honored Southern values that still rally some folks but rankle most others.
Instead, after almost a year of anonymity—but not a lack of attention—the classy little cocktail bar is now known simply as … The Dime.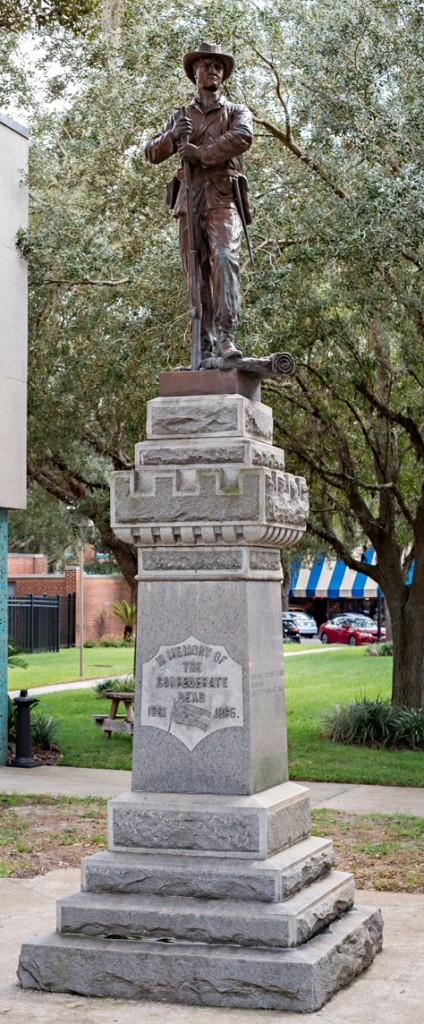 That name may not have the same charm as The Old Joe, but no one's exactly protesting its political correctness (if you know what we mean).
"I always like when bars are named after money, like the Silver Dollar Saloon," said Daniel Schexnaydre, who tends bar at The Dime.
The bar opened in summer of 2014 without a name, a Facebook page or (gasp!) a Twitter hashtag. However, news soon spread by good old-fashioned word of mouth.
Fellow barkeep Bill McFadden accepts some of the blame—or credit—for opening a bar without a name.
"It was not our intention," he said. "It was purely out of indecision."
Today, The Dime draws a steady crowd of locals, students and other characters to its understated elegance at 4 E. University Ave., a few steps off Main Street.
"I guess we're doing the right thing," Schexnaydre said. "We make good drinks. That's what we're all about."
There are a number of things to like about the place, beginning with its art-deco design elements that harken back to a time when people actually conversed with each other rather than stared catatonically into smartphones.
The Dime plays a funky/retro soundtrack at a level low enough to encourage the aforementioned face-to-face, in-the-moment conversation. With a 21-person occupancy limit, the bar never feels crowded
The attention-getter, however, is The Dime's sophisticated drink selection, from craft beers on tap to South American wines and from cider cocktails to hard-liquor concoctions created before your very eyes.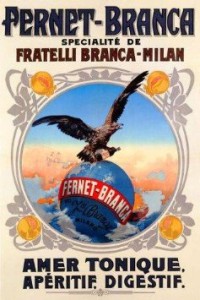 Very few places in Gainesville offer craft cocktails made with Fernet-Branca, a classic Italian bitter said to be made with over 100 herbs and spices (take that, Colonel Sanders!). They include myrhh, chamomile, cardamom and saffron.
"It's a very versatile cocktail spirit," Schexnaydre said, adding that the Italian distillery is the world's largest purchaser of saffron.
In fact, Fernet-Branca recently presented owners of The Dime with a three-speed Fernet-Branca beach cruiser for their ability to sell their product. Although stylish, the bicycle doesn't quite fit in with the bar's metropolitan décor, so you won't see it hanging from a wall.
Schexnaydre grew up in Louisiana. His hometown is Prairieville, south of Baton Rouge, and he is rightfully proud of his Cajun heritage. He's worked in restaurants or bars since he was 15 and became a full-fledged bartender five or six years ago. His previous job was at the Jones B-Side, but now he's a home at The Dime.
He said the key to a good "modern classic" cocktail is quality ingredients and a balance of flavor.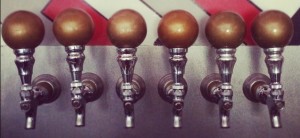 One of The Dime's most popular cocktails is known as the Chicago Typewriter, hailed on the drink menu as "the most reliable response to the Volstead Act." The shaken drink includes Jameson Irish whiskey, Torres orange liqueur, a dash of homemade apricot jam, lemon and fresh-shaved ginger. The result is a refreshingly zesty cocktail that goes down smooth.
"The Chicago Typewriter and our Social Club involve very accessible flavor profiles," Schexnaydre said. "I try not to get too distracted by trends. I try to avoid the gimmicky, high-brow shit."
Also on the drink menu, the Aunt Sharon contains egg white to go with Rittenhouse Rye Whiskey, Licor 43 and lemon. The grenadine in the oxymoronic Uncle Daisy is house-made as are the crème-de-menthe and crème-de-cacao used in other drinks.
Schexnaydre, 28, said bartenders at The Dime, the 2nd Street Speakeasy and a handful of other bars in town have a "solid awareness" of mixology.
"There's not a lot of mustache curling, as I like to call it," he said, adding, "although there are a lot of great mustaches in the bartender business."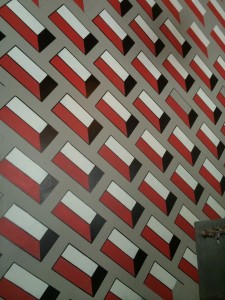 Meanwhile, music fans might recognize Schexnaydre's clean-shaven cohort, McFadden, from his days as lyricist and vocalist for the '90s punk-rock band The Beltones. Back in the day, he wrote and sang such songs as "Let the Bombs Fall," "Better than a Kick in the Head," "Mr. Wrecking Ball" and "Shitty in Pink."
McFadden is still composing, but his creations these days are tantalizing cocktails.
"I love this place immensely," said McFadden, a native Floridian who honed his bartending skills at the Yellow Jacket in Austin, Texas. "It's a great place to work and to hang out."
The bar is just one venture of Shillington and Mendez as they continue to expand their downtown Gainesville empire that already includes The Top restaurant, the Wooly event space, the Atlantic Nightspot and Pop-a-Top bodega. Their most recent addition is the Arcade Bar, next door to The Dime at 6 E. University Ave. Word is, the pair is not done yet.
Before it became a bar, the space at 4 E. University Ave. served as a storage area for Soul Train clothing until it closed a couple of years ago. The bar has the dimensions of a single-wide mobile home, but the interior-design touches are worthy of a "Mad Men" set.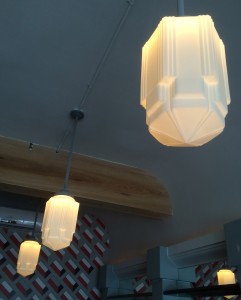 Ken Glaser, Mike Hetric and Tim Yingling, who have worked on other properties owned by Shillington and Mendez, were responsible for many design elements in the bar, including the curved ceiling, ornate light fixtures, decorative columns and repurposed wood flooring.
Gainesville graphic artist Shawn Maschino spent 60 hours meticulously painting the Op Art mural on the back wall and 20 hours on the accent wall to the left of the entrance. He also poured the epoxy that formed the bar itself.
"I'm very proud of the way the space looks as a whole and of how it came together in the end with a lot of discussions and risks," he said.
Maschino especially likes the bar itself, which has elements of the swanky ballroom bar where Jack Nicholson's character in "The Shining" drowns his sorrows.
"The bar is classic, with art deco accents and subtle class," Maschino said. "It's reminiscent of big-city bars of the '40s and '50s with a few sleek diner and piano bar nods. In a word, it's handsome."
On a recent evening, a stocky, heavily tattooed man—the type you might expect to see chugging down brews at a biker bar—sat contentedly on an end-stool sipping a Social Club from a highball glass.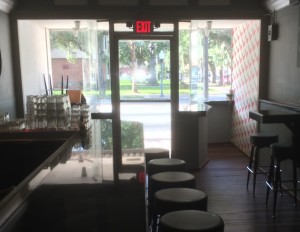 "I use this place as my little hideout," said "Little Mike" Mehaffey, owner of Death or Glory Tattoo Parlour at 8 E. University Ave. "My shop is literally 20 feet away."
Mehaffey said his admiration for McFadden and Schexnaydre and the pride they put into their work has made him a loyal customer since The Dime opened.
Schexnaydre encourages people to give The Dime a shot, perhaps during Happy Hour, which he calls "arguably one of the best" in Gainesville.
"You can get a nice drink for under $6 that is strong and tasty, in my humble opinion," he said.
If he could speak–or, alas, drink–perhaps Old Joe across the street would agree.
— Noel Neff
---

The Dime
4 E. University Ave.
Gainesville, FL 32601
352.692.0068
Hours: Monday through Saturday 4 p.m.-2 a.m., Sunday 1-11 p.m.
Happy hour: Monday through Saturday 4-7 p.m., Sunday 1-7 p.m.
Visit The Dime on Facebook.