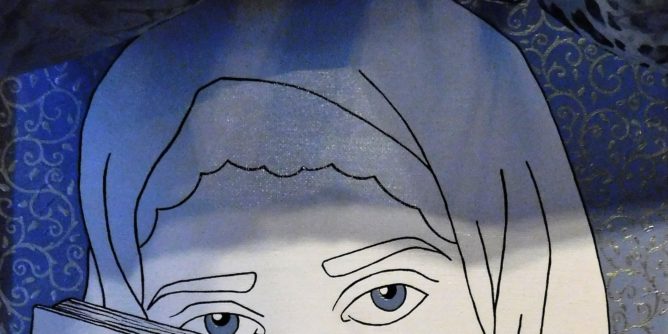 Ameena Khan's provocative "Just a Peek, Please?" gives a voice to Muslim women and insight into the hijab, or headscarf, worn by many of them.
---
The sight of a Muslim woman wearing a traditional headscarf, or hijab, has been known to stir emotions in the U.S. during the post-9/11 era. Simply for expressing their faith in the most fundamental way, many of these women have been victims of taunting and, in some cases, violent assaults.
The hijab is the focus of an art exhibit opening Friday night at the Hippodrome Gallery during Artwalk Gainesville, which is taking place at more than 20 downtown area galleries and other art-minded businesses. (See complete list of venues below.)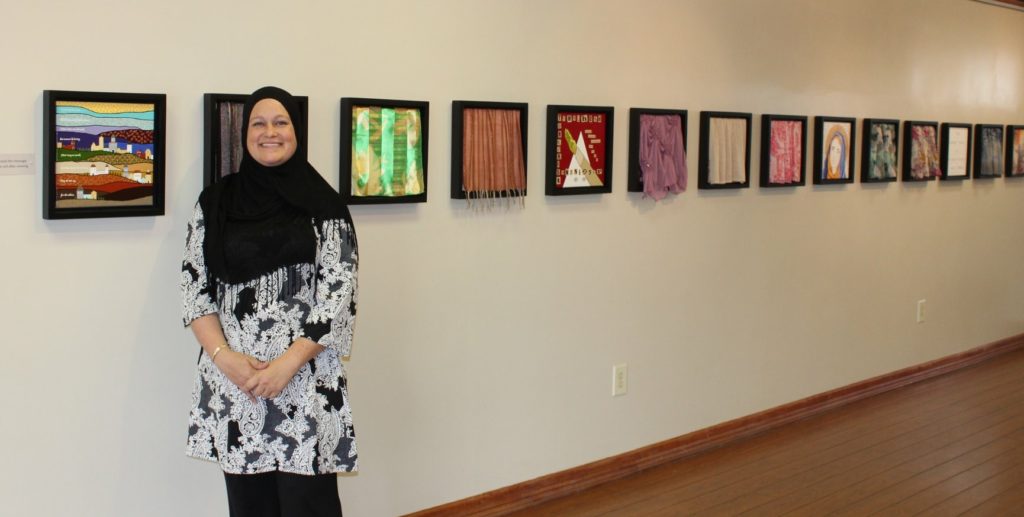 In the exhibit "Just a Peek, Please? Expanding the Narrative About Muslim American Women," Gainesville native Ameena Khan displays 33 mixed-media works that help break down stereotypes associated with Muslim women and the hijab.
"I believe that the right painting can transcend boundaries of culture, language, location and even time to touch hearts and transform communities," Khan said in an artist's statement. "The very best art challenges our most deeply held convictions, and this is the type of artwork I challenge myself to create."
Each 12-by-12-inch piece by Khan has a black frame. Most are covered by a scarf — previously worn by its muse — that is intended to be lifted by the viewer, revealing an image created by Khan and accompanied by that woman's message.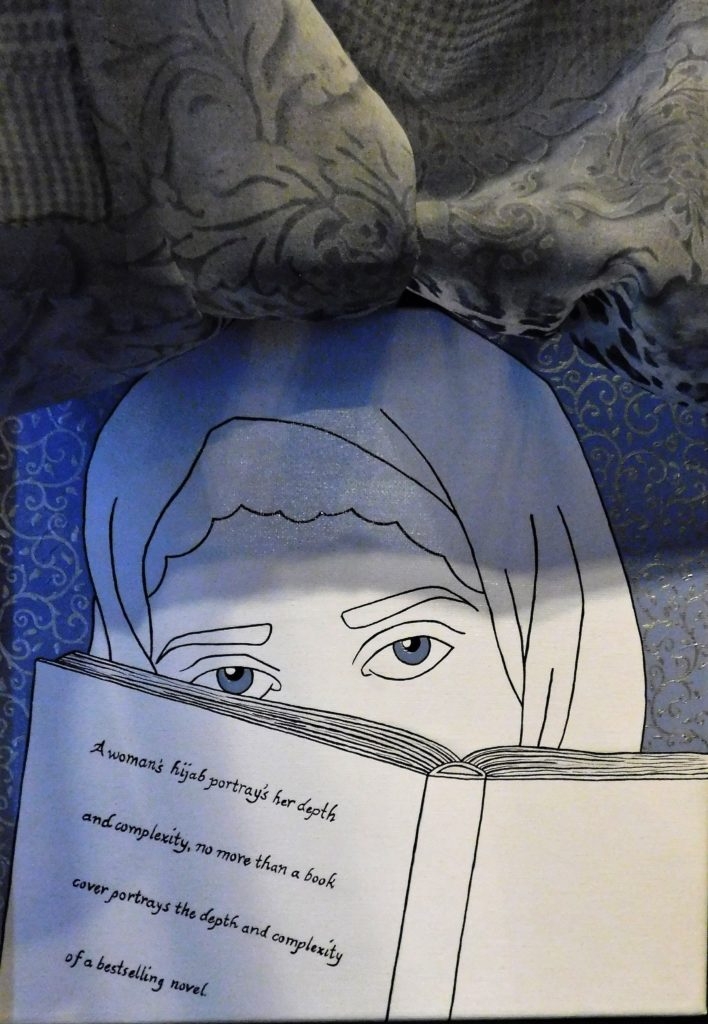 For example, one piece, when unveiled, reads: "I LOVE wearing hijab when standing before God. I HATE wearing hijab when standing before man."
Another reads: "LGBTQ & Muslim. Standing at the Intersection. Feeling alone."
According to Khan, stories about Muslim women are typically limited to one of two stereotypes: the victim or the siren. This oversimplification dehumanizes the complex lives of individuals and invents a vast separation between non-Muslim and Muslim women. It creates a sense of "us versus them" and relegates Muslim women to being "an other" instead of just "another."
"Just a Peek, Please?" expands the narrative by telling the stories of a collection of American Muslim women who have agreed to share their experiences anonymously.

Unlike most artists, Khan encourages viewers to interact with her work. The seemingly voyeuristic act of lifting an article of clothing to see the art underneath creates the sense of a fleeting, intimate conversation between viewer, muse and artist.
Khan was born in Gainesville in 1980 and attended Wiles Elementary, PK Yonge (elementary and middle school) and Eastside High School. She attended UF and earned degrees in environmental engineering (bachelors, masters and PhD).
Khan worked as an engineer for 10 years before deciding to focus on making art and teaching art. She and her husband and three children have lived in the Tampa area since 2013.
"We have deep roots in Gainesville and so we come back frequently to see family and friends," she said.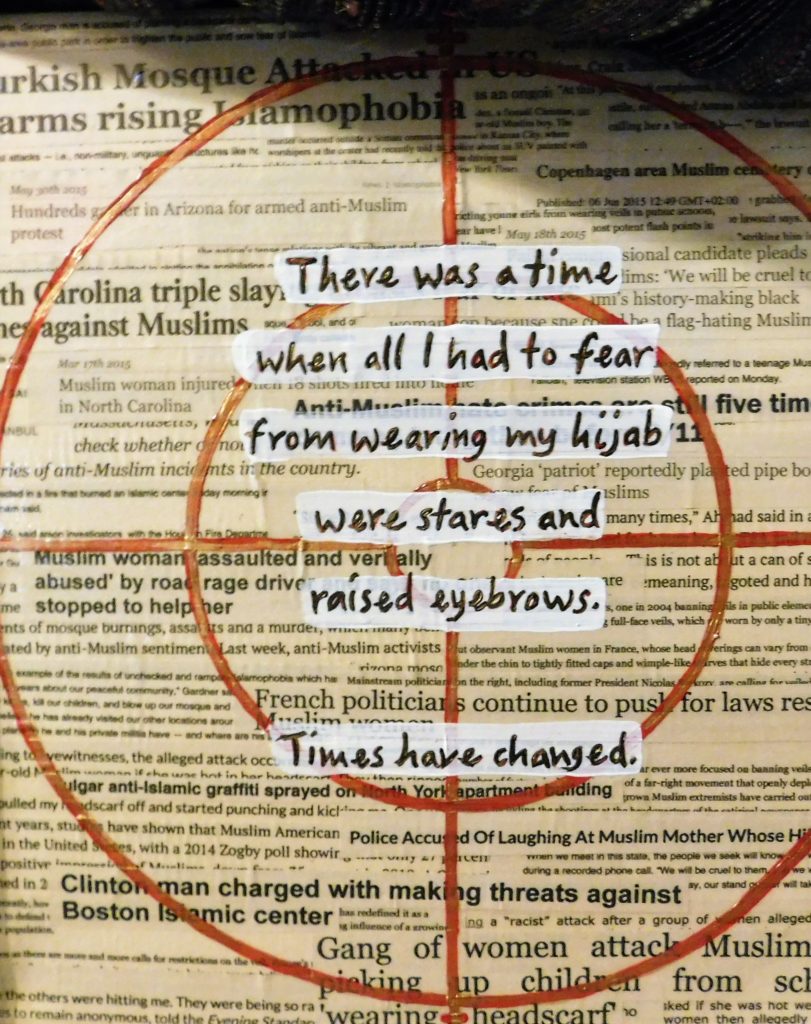 The artist has participated in a number of group and solo shows around Florida for several years and has exhibited this collection since 2015. This is the first time the collection has been shown in Gainesville.
"It is currently the focus of my creative energy, so I am gradually adding to the series and looking for opportunities to show it," Khan said. "My hope is that the series will further understanding and empathy by demonstrating a shared struggle and encouraging conversations about difficult topics."
Khan will attend the opening of "Just a Peek, Please?" on Friday night. The gallery opens at 7 p.m. The evening will include an artist's talk at 7:30 followed by a Q&A session.
"Nothing is off limits, and I ask people to get comfortable with being uncomfortable," Khan said. "The resulting conversation is not always easy, but it is always important and powerful."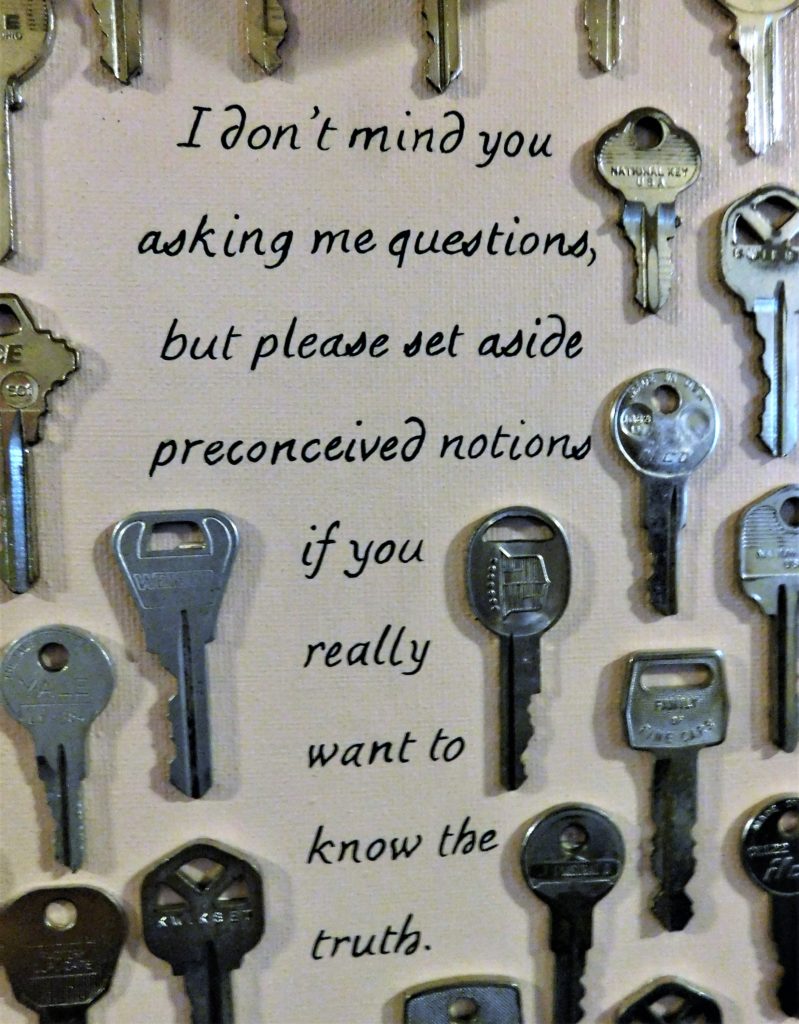 The reception is sponsored by the Hippodrome Theatre and UF's Center for Global Islamic Studies. Light refreshments will be served. The event is free and open to the public.
The exhibit continues through March 6 and will be open during most Hippodrome events, including performances of Miracle on South Division Street, opening March 1.
— Noel Leroux
---
February Artwalk Venues
More than 20 downtown area businesses will be participating in Friday's monthly Artwalk Gainesville from 7-10 p.m. (earlier at some venues). Here is a venue-by-venue listing and what to expect at each one:
GFAA Gallery (1314 S. Main St.): Presenting the "Large Works" exhibit, where Gainesville Fine Arts Association members display their large-scale artwork, Opening reception and awards presented during Artwalk. Exhibit continues through March 23. The GFAA Gallery also includes a boutique with affordable artisan objects and artworks. Note: Artwalk hours 6-9 p.m.
First Magnitude Brewing Company (1220 SE Veitch St.): Hosting a variety of artists as well as food trucks, craft beers and live music by Mike Freund Band (starting at 6:30). Note: Artwalk hours 6-9 p.m.
435 (435 S. Main St.): Hosting Mike Chappell, who makes porcelain and stoneware, soda-fired functional pottery. Soda firing is an atmospheric process that leaves marks of the flame on the work. Also, photographer Eddie Fogel's introspective works: "What lies behind us and what lies before us are tiny matters compared to what lies within us." (Next door to the Civic Media Center.)
Civic Media Center (433 S. Main St.): Connect the Dots is a music series that a young CMC volunteer started as a means to bridge activism with the arts. Presenting Brook Pridemore, Yankee Roses, C00per and Katy Deitz starting at 10 p.m. (Donations appreciated.)
Hippodrome Gallery (25 SE 2nd Place): Presenting the exhibit "Just a Peek, Please?" by Ameena Khan. It's a series of paintings that expands the narrative of a collection of American Muslim women who have agreed to share their experiences anonymously. Stories range in sentiment and complexity from faithful to faithless, fearful to fearless, embraced to isolated. Exhibit continues through March 6.
Santa Fe College Adult Education Artist Entrepreneurs (on Southeast 2nd Place the Hippodrome and Maude's Café): "Uniquely Gifted" is a diverse collective of SF artist entrepreneurs creating in a variety of mediums. Every artist in the collective is enrolled in SF College's Adult Education department, taking contextualized classes related to his/her interests in art, and participating in exhibits and sales events.
Maude's Classic Café (101 SE 2nd Place): Welcoming two artists: Alma Elaine Shoaf a figurative artist who graduated from The Savannah College of Art and Design with a BFA in illustration, and Aleksandra Tomic, a self-taught artist from Serbia who was inspired by the clash between East and West, as well as female bodies as vessels of life, sources of pleasure and objects of controversy.
Black C Gallery (201 SE 2nd Place): A performance space featuring the work of dancer, photographer and visual artist Ani Collier. "In Motion!" explores dance movement through digital collages and photography. Many of the images were recently on display during the Havana International Ballet Festival. Note: Artwalk hours 7-9 p.m. Regular gallery hours Monday-Thursday noon–5 p.m. and by appointment. (blackcproduction.com)
Somewhere Along the Way (201 SE 2nd Ave, Suite 110): Featuring work by dozens of local and regional artists in the atmosphere of a coffee and wine bar.
Artisans' Guild Gallery (201 SE 2nd Place): "Local Color," featuring the natural beauty of North Central Florida captured in landscapes, photographs, fabric art and more. Live music by The Johnsons, music from Hawaiian to Swing. Regular gallery hours Monday-Saturday 10 a.m.-7 p.m. and Sunday noon-5 p.m. (www.artisansguildgallery.com)
Sweetwater Print Cooperative (117 S. Main St.): Presenting Christina Bartonicek's "Saturate," an exploration of the wild Florida landscape in her Bohemian folk-art style. (opendoorprints.com) The exhibition continues through March 27. After Artwalk, the gallery is open on Thursday afternoons and Friday mornings, or by appointment by calling Stewart Thomas at 352.514.3838.
Eleanor Blair Studio (113 S. Main St.): Featuring new oil paintings by Eleanor Blair and live music by the Weeds of Eden. (eleanorblairstudio.com)
Lennie Kesl Studios at the Tench (115 S. Main St.): Presenting "Figures, Rooms and Faces," contemporary realism paintings. Featured artists include Charles Hedrick, Elaine Shoaf and Nika Zakharov. (One night only.)
The Bull (18 SW 1st St.): Presenting "About Face too," drawn portraits by Josh Wilson. These portraits explore the beauty and expressed emotion of the human face, defined by the line. Wilson has been offering his unique take on Gainesville and its people for more than a decade.
One End Studio (14 E. University Ave.): Exhibit: "What is a gender and do I need one to get in here?" A selection of local artists presents work on alienation from gender and celebrating the spaces we create for ourselves. Artwork covers a variety of mediums, including watercolor, digital illustration, comics, poetry and sculpture. Some originals and prints will be for sale. Note: Look for the studio's sign on University Avenue and head upstairs.
The SL8 (10 E. University Ave.): Continuing to show the work of local Gainesville artists Nava Ottenberg and Nathan Grimes, as well as select works by local and distant artists, including Scott Wood (Clermont), Virginia Zuelsdorf (Orlando), Jiri Lonsky (Czech Republic.), Jade DiMarco (New York City), Grace Lamerson, John Korb, Lennie Kesl, Lucas Thon, Cory Collins, Josiah Lloyd, Pateh, Michael Levy, Charlie McWhorter (all from Gainesville), and Salvador Dali (Spain).
Florida Community Design Center (101 N. Main St.): Hosting "Art of The Resolution 2019!" The free art group AnARTists invites you to create your own art to empower your New Year's goals and/or apology Valentine card(s). Note: Artwalk hours 5-9 p.m.
The Vine Sourdough Bakery (627 N. Main St.): John Snyder has been throwing pots for almost 20 years, including 2014-15 in Gainesville. The Vine has been serving coffee in John's mugs since 2013. He currently lives in the Washington, D.C., metro area, where he has a home studio. He's also heavily involved with the District Clay Center, were he glaze fires his work. (johnsnyderpottery.com)
Cypress and Grove Brewing Co. (1001 NW 4th St.): Eccentric Pottery is a series of tableware created by Sam Mendez. The objective is to make functional and fun pottery that is more interactive through textures and colorful surfaces. Eccentric Pottery is microwavable, dishwasher-safe and food-safe. Mendez received her BFA in Ceramics from UF and teaches local pottery classes.
Hardback Cafe (920 NW 2nd St.): Featuring Atlanta's Brian Wilson, an abstract/energy artist who mainly works with acrylic paints/inks and charged crystal/gemstone powders for the protective and healing properties they offer. By examining the ambiguity and origination via retakes and variations, Wilson aims to create personal moments created by means of rules and omissions, light and energy, luring the viewer round and around in reflection. (Around the corner from Cypress & Grove Brewery.)
The Collaborative Shoppe (532 N. Main St.): Design by Jessanne, Beachy Beads, Cette Vie Photography, finn+piper, Designs by Fur, Simone's Natural Notions, Bookish Apothecary, Ted Zysk, Rootzy Fair Trade, authorized maker for MyIntent. There will be a create-and-take station for anyone who stops by the Shoppe to get a sample of what its DIY Workshops offer. There's a wide selection of art, gifts, lifestyle products and clothing from local artisans, handmade businesses & Fair Trade. DIY classroom has workshops by locals for all ages, entertainment venue for artisan markets and events.
The Atomic Ark Gallery (1801 NE 23rd Ave., Suites C1-C2): Featuring Art Deco, Atomic and Mid Century Modern & Space Age furniture and decor. Striving to showcase and preserve iconic American designs, some of which are featured at the MoMA. Note: Artwalk hours 5-10 p.m. (Located across from Satchel's Pizza.)
The AUK Market (2031 NW 6th St.): Colin Curry is an oil painter concerned with the role of memory on contemporary culture and vice-versa. "Our past changes as we recall it and re-envision it, accidentally or intentionally, to fit our contemporary narrative. Experiences become obscure and opaque memories, with a weight and meaning of their own." By the end of the process of painting these works, he is no longer referencing any original photograph but only his own recollections of it, flawed as they are. Dad's Bar is located in the back of the market and there is also a vegan food truck onsite. (Located in the Curia on the Drag complex.)
For further info, visit the Artwalk Gainesville website.