The play from Pulitzer Prize winner Lynn Nottage, opening this week at the Actors' Warehouse, offers a glimpse into the life of the playwright's great-grandmother at the turn of the 20th century.
---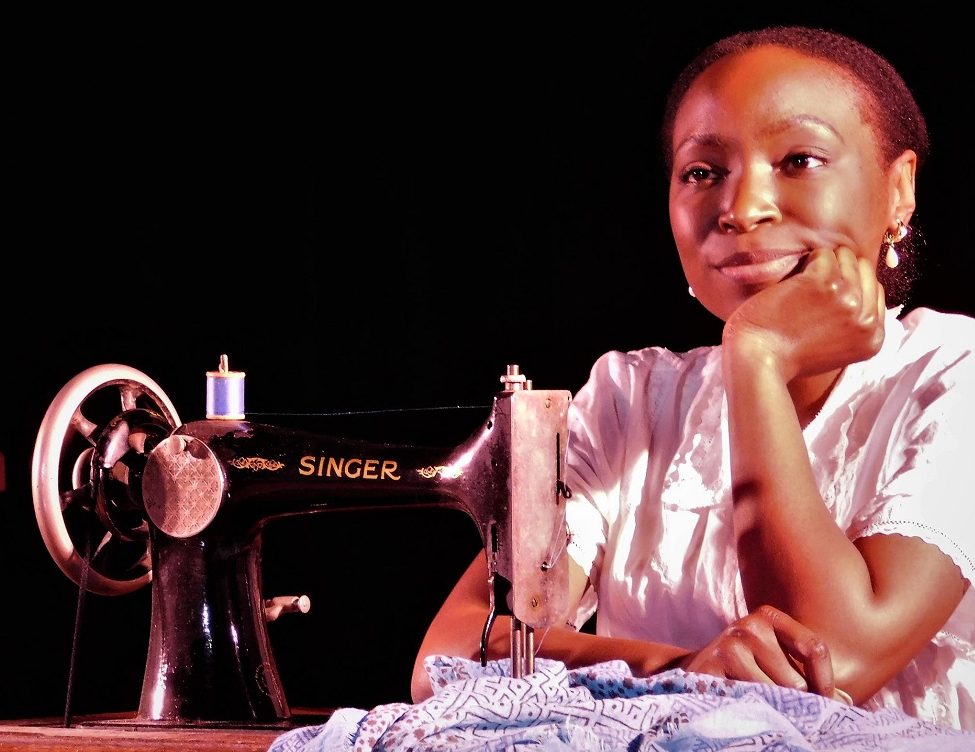 Tereva Crum-Stauffer can easily identify with the character of Esther Mills, the central figure in Lynn Nottage's award-winning drama, Intimate Apparel.
Esther is a hard-working, good-natured and loyal woman of color who longs for intimacy that has eluded her into her mid-30s. She's a seamstress who creates fine undergarments — thus, the play's title — for a cross-section of society, but never has the opportunity to wear such niceties.
"I think Esther's flaws are her innocence and kindheartedness," Crum-Stauffer said. "She extends it without abandon. Even though she's 35, she's sheltered and naive."
Esther's longing for love is the driving force behind Intimate Apparel, which opens Friday night at the Actors' Warehouse, 619 NE 1st St. There are also performances Saturday at 8 p.m. and Sunday at 3 p.m. and four more performances a week through Feb. 11.
Tickets are $20 ($15 for students and seniors) and available through the Actors' Warehouse website.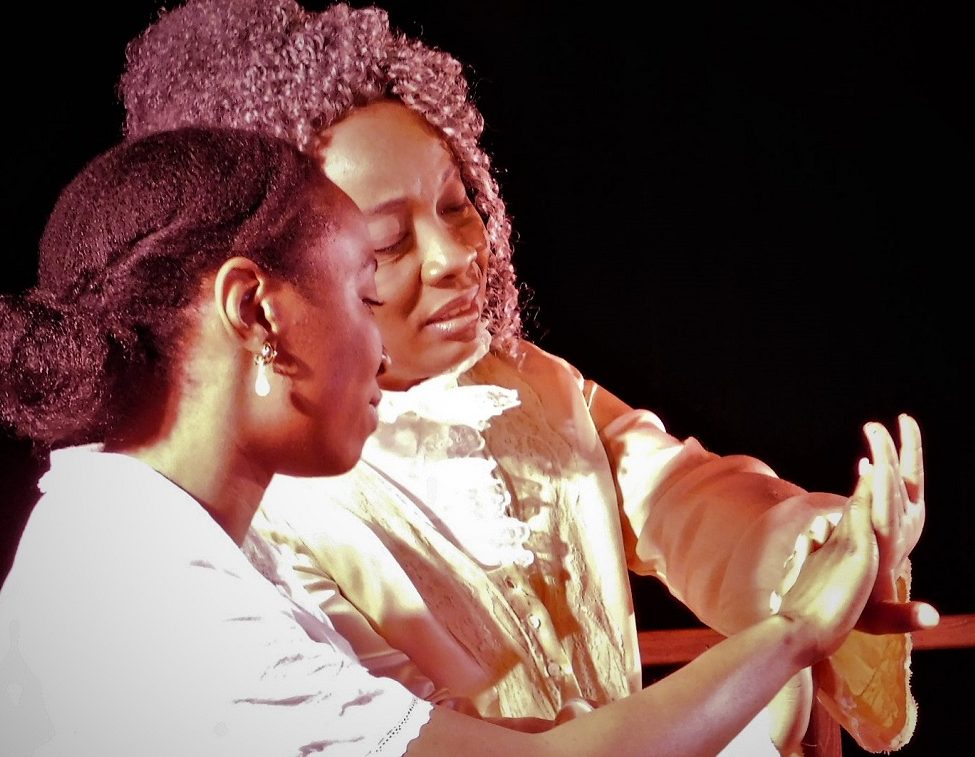 Crum-Stauffer, 30, said she can relate to the 35-year-old Esther, but not on all levels.
"Esther is a very understated person — she doesn't like to draw attention to herself," Crum-Stauffer said. "I consider myself an outgoing introvert!"
Crum-Stauffer performed in Eclipsed when the Star Center Theater competed at the 2017 Atlanta Black Theatre Festival and was awarded Best Play. She was awarded the festival's Best Supporting Actor for her portrayal of Bessie in Eclipsed.
Last fall, Crum-Stauffer performed as Helen Forrester in By the Way, Meet Vera Stark at the Gainesville Community Playhouse. Coincidentally, that play was also written by Nottage, a two-time Pulitzer Prize-winning playwright.
In Intimate Apparel, Nottage takes the audience back to 1905 and a Lower Manhattan boarding house, where Esther labors over her Singer sewing machine for clients that include high society in the form of Mrs. Van Buren (Mandy Fugate) and not-so-high society in the sultry prostitute and ragtime pianist Mayme (Shanteria Strowbridge). Esther also weighs advice on love from her boarding house operator, Mrs. Dickson (Jamaili N. Tyler).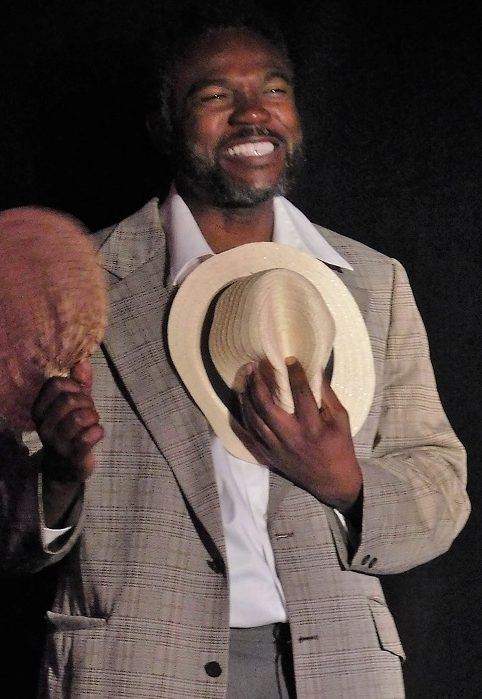 All the women seem to have an opinion on how Esther should handle the romantic letters she receives from George (Mark Kelly), a Panama Canal laborer from Barbados. Meanwhile, Esther is developing feelings for Mr. Marks (Alexandr Wilde), a Romanian-born Orthodox Jewish fabric merchant.
"The playwright creates a world we can all relate to," said Deborah Dickey, who is directing Intimate Apparel. "Esther goes through so many things in her journey. She learns about the world and how to navigate it."
Nottage got the idea for Intimate Apparel when she was cleaning out her grandmother's apartment and learned more about her great-grandmother, who came from Barbados and had a brief marriage.
"That part of the story came from her own history," Dickey said. "But like so many great playwrights, she added these great nuggets of information and was able to see what her great-grandmother's life would have been like in New York City at the turn of the century."
In the play, Esther is illiterate, so she has the other women help her write the letters to George.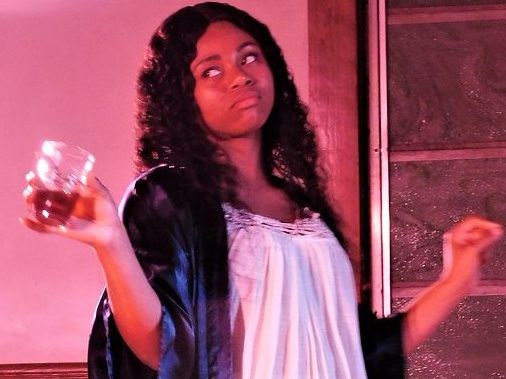 "This play spoke to me," said Dickey, who pitched it to the Actors' Warehouse play-review committee. "The language and the writing is so beautiful. I look for plays that, no matter what is thrown at the characters, they can still have hope."
Strowbridge, who made her Actors' Warehouse debut in December as Tracy in Steal Away, said she enjoys the many layers of Mayme, who is Esther's best friend.
"She just thinks that she's all that — she's obsessed with herself," Strowbridge said. "She's also a very caring person and she loves Esther. They both have dreams that will never happen."
For Intimate Apparel, the Actors' Warehouse has chosen a thrust-stage setup that is surrounded on three sides by the audience. Different parts of the stage include areas that represent Esther's room, Mrs. Van Buren's apartment and, to the rear, a chair where George reads his letters aloud.
"I call this three-quarter round — like a thrust stage," Dickey said. "That was a challenge for us."
Off to the corner of the audience on one side is Mayme's apartment complete with upright piano. In the opposite corner is Mr. Marks' textile area. In other words, the action of Intimate Apparel sometimes takes place within arm's length of the audience — all making for an, um, intimate theater experience.
— Noel Leroux
---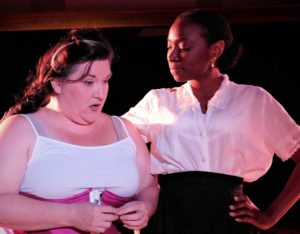 Intimate Apparel
at the Actors' Warehouse
619 NE 1st St.
Gainesville, FL 32619
Performances: Thursday, Friday and Saturday @ 8 p.m., Sunday @ 3 p.m. through Feb. 11.
Tickets: $20 general admission; $15 students and seniors.
For further info, visit the Actors' Warehouse website.
Let us know what you think about Intimate Apparel by posting a comment in the Leave a Reply section below.