Family, friends and colleagues shared heartwarming stories and humorous tales about the late Hippodrome actor during a Celebration of Life on the stage where he performed for 43 years.
---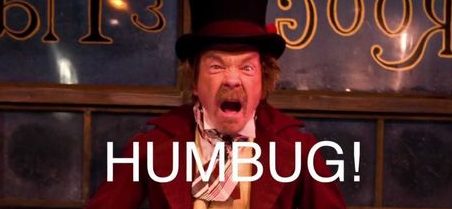 In 35 years at UF, Dr. Albert Wehlberg taught more than 45,000 students in the School of Theatre and Dance. One of those students, a wiry youngster from Jacksonville by the name of Rusty Salling, entered his Stagecraft 1 classroom in September 1969 and never truly left the building.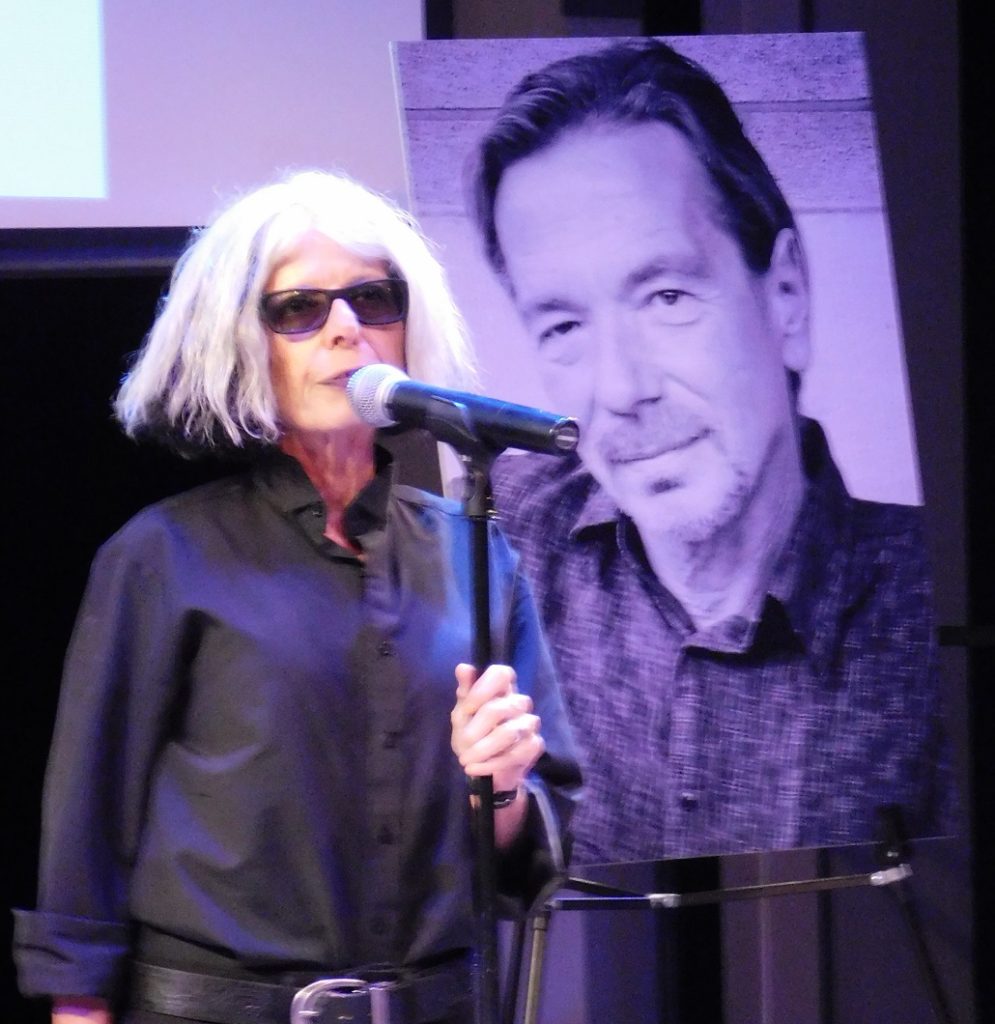 "He enjoyed class, but mostly when I dismissed class early," Wehlberg said of his former pupil, who would go on to a long career in theatre.
"Technical theatre wasn't his favorite subject," Wehlberg said later. "In fact, he probably thought it was a pain in the ass because I made him work."
But Wehlberg, now 79, came to admire his pupil's work and said as much on Monday night during a Celebration of Life for Salling at the Hippodrome Theatre. About 200 people, including family, friends, fellow actors and admirers, attended the two-hour tribute on the mainstage where Salling performed for more than four decades.
"He did well," Dr. Wehlberg said of Salling. "He always used to make a funny sound whenever I complimented him on a production. I don't know where that sound came from!"
Wehlberg was one of more than a dozen speakers to share a story or two about Salling on a night that included some tears but mostly laughter for a man who was bigger than life on stage but otherwise a humble and private individual. Dan Jesse, a longtime friend of Salling, emceed the Celebration of Life.
Salling died on June 12 following a 14-month battle with cancer. He hadn't performed on the Hippodrome stage since the 2014 production of A Christmas Carol, which marked his 25th season in the crotchety role as Ebenezer Scrooge.
Gregg Jones, the actor who took over as Scrooge last year when Salling was too ill to perform, called his colleague "a brilliant, honest and sweet man."
"Rusty was a comrade de arte, but I was also proud to call him my friend," Jones told the audience. "He had a crusty, somewhat abrasive exterior, but his heart was full of love for others, his craft and the theatre."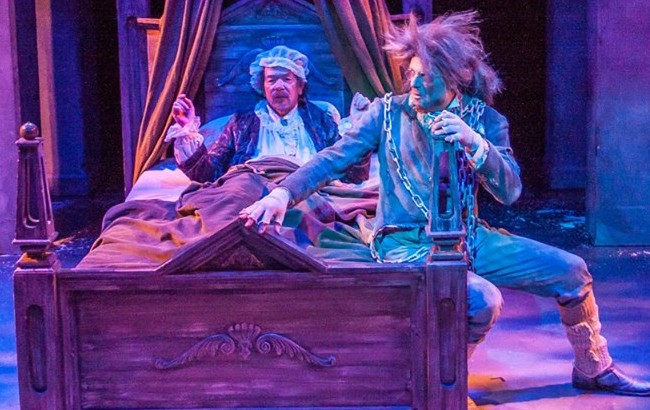 Jones estimated that he played Marley to Salling's Scrooge more than 500 times over the years. During one of those performances, in a scene where Marley's ghost was supposed to soar high above the audience before exiting, the stagehand guiding the prop tripped in the darkness and ended up in the bed where Salling's character lay.
According to Jones, Salling couldn't stop giggling at the gaffe even when the stage lights came back up.
"The stuff of Hippodrome lore," said Jones, who added that he can't get used to the Hippodrome without Salling.
"I look at his office, he's still there. He's still in the wings. He's still here," Jones said as he turned toward a large black-and-white photo of Salling. "Buddy, I heard you just opened a new show. Break a leg!"
Lauren Warhol Caldwell, the Hippodrome's artistic director, said the theater has renamed its green room in Salling's honor.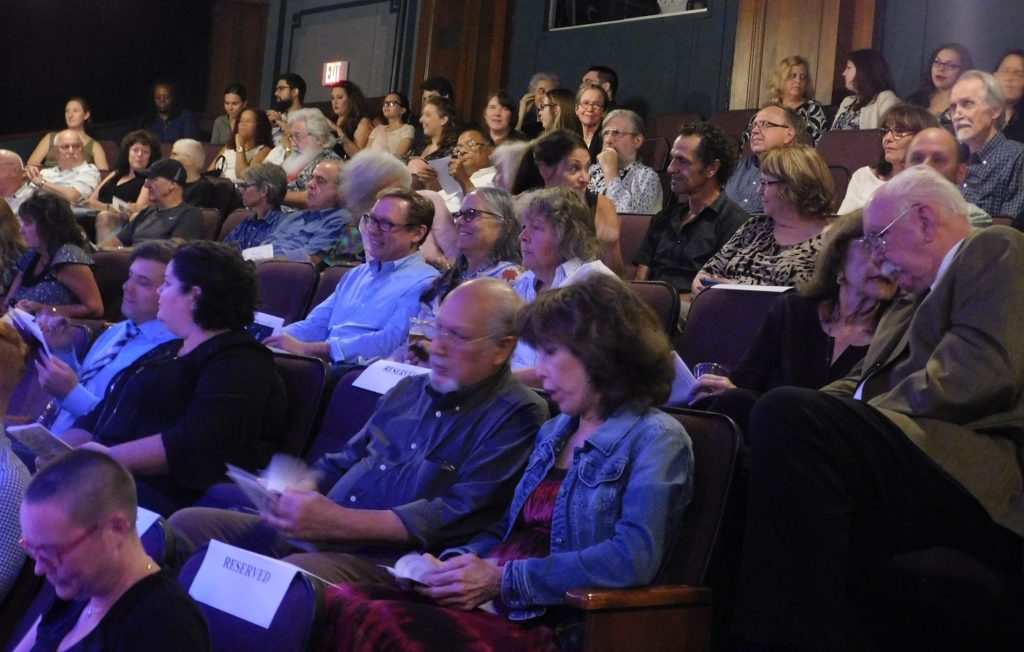 "When I think of 'home,' Rusty comes to mind," Caldwell said. "The Hippodrome was Rusty's home. He showed up everyday to give everything he had."
Caldwell drew laughter when she told the audience how her silky terrier, named Buddy, took an unexpected liking to Salling. On the day they met, the dog followed Salling out of Caldwell's office and down the Hippodrome's long, third-floor hallway.
"I found my dog laying on top of Rusty's desk!" she said. "He looked at the dog and said to me 'We're getting along just fine.'"
When Buddy was eventually put down, Salling was among the first persons to hug Caldwell.
"Children and animals loved Rusty. And, believe me, that says a lot!" she said.
Matthew Lindsay also performed opposite Salling in A Christmas Carol and many other Hippodrome productions. Lindsay often made muffins for Salling (and other Hipp co-workers) and once got chastised by Salling for doing crossword puzzles in lower-case letters.
"Over time, I realized I was Rusty's friend," Lindsay said. "He put everything of himself into what he did."
The Celebration of Life was attended by Salling's sister, Susan Pfahler, her husband Randall, and his beloved stepfather, Leon Clark. Cameron Pfahler, Salling's nephew and a Hippodrome worker, spoke for the family.
"He once told me that nothing ever came close to the feeling of being on stage," Pfahler said. "I'm grateful to be standing in this space that he loved so strongly."
Salling's family and individual donors from the Gainesville community have helped the Hippodrome establish the Rusty Salling Memorial Fund as a way to ensure his name will always be kept alive in the hallways of the theater. (Further info is available by visiting the Hippodrome website or by calling 352.373.5968.)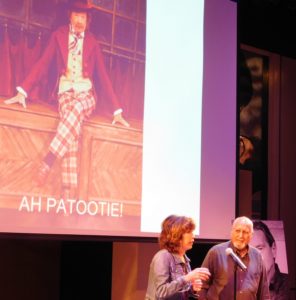 After earning his theatre degree from UF, Salling and some friends formed a theatre touring company called Bacchus Productions. During one tour that lasted a year, they traveled the Southeast performing Waiting for Godot, a stint that included stops at 12 Florida prisons.
Jon Schwartz, a former classmate of Salling who still runs Bacchus Productions out of Atlanta, said that, "Over the years, Rusty's genius has rubbed off on all of us."
Barbara Duncan, another longtime friend and television executive, moved from Gainesville to New York with Salling and two other friends in the 1970s to test their acting skills.
"It was very scary at first to all of us," she said. "Rusty was like a big brother the whole time. We talked about everything."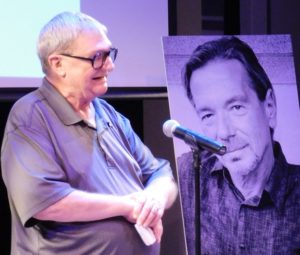 Salling took only three years of the Big Apple before returning to Florida, but the experience served its purpose.
"New York helped us find ourselves," Duncan said, "but Rusty found his home in Gainesville."
Fellow Hippodrome actor Nell Page said she was 18 when Salling first complimented her acting ability. That began a friendship that lasted many years.
"As he was dying, he told us that he loved us," Page said before looking upward. "Rusty, if you're here, haunt this room! Because without you, the Hippodrome loses some of its past."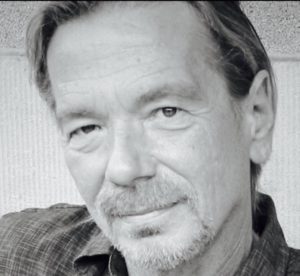 Other invited speakers during the evening included Kevin Rainsberger, Marilyn Wall, Carlos Asse, Emilee MacDonald Amos and Lizzi Nehls.
Nehls, a Hippodrome Theatre stage manager, said of Salling: "He always had my back, even when I didn't want him to."
Later, Nehls made the final gesture of the evening. She walked backstage, carried out a "ghost light" and set it in the middle of the stage. The theater went dark except for the glowing bulb.
Rusty Salling took his final bow.
— Noel Leroux
---
Do you have a memory of Rusty Salling you would like to share? Please write a comment in the "Leave a Reply" area below. Thank you!