Marty Jourard lived, breathed and actively participated in Gainesville's vibrant music scene in the 1960s and '70s. Forty years later, he's written about it.
---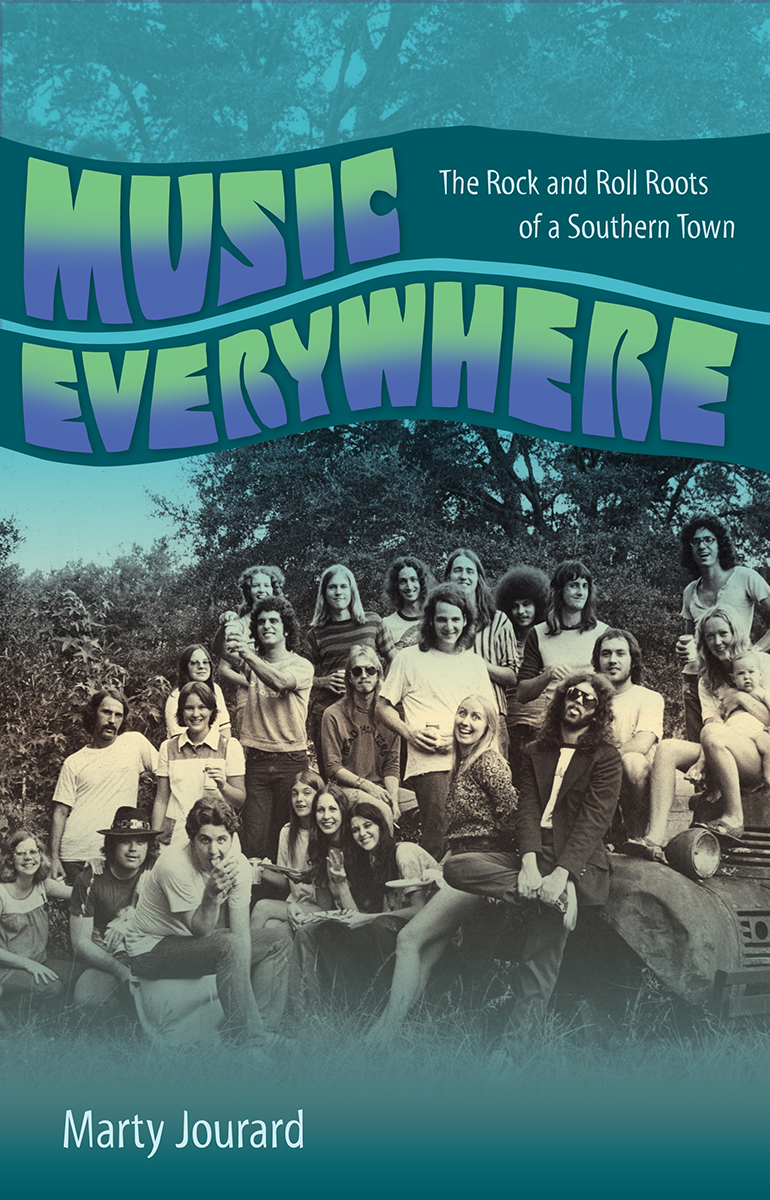 Marty Jourard's new book, "Music Everywhere: The Rock and Roll Roots of a Southern Town," chronicles a golden era during which Gainesville was home to eight future Rock and Roll Hall of Famers and a slew of other young musicians who pursued their passion with fervor.
On Thursday at the Matheson History Museum, Jourard will officially launch his book with a presentation and question-and-answer session starting at 6 p.m. Later in the evening, he will sign copies of "Music Everywhere," which the museum will make available for purchase.
"I suspect that this will be the definitive book about that period," Jourard said last week in a phone interview from his home near Seattle.
Jourard flew into Gainesville earlier this week and has spent much of his time rehearsing for a Friday night gig at High Dive. He will be resurrecting Road Turkey, the band he formed during his teenage years in Gainesville.
Joining Jourard, a keyboardist and sax player, will be former bandmates Steve Soar on guitar and Stan Lynch on drums. Richy Stano, renowned guitar instructor at Santa Fe College, will play bass. The band will perform an eclectic mix of familiar tunes from the day.
Lynch, of course, went on to greatness as drummer with Tom Petty and the Heartbreakers, earning him a spot in the Rock and Roll Hall of Fame.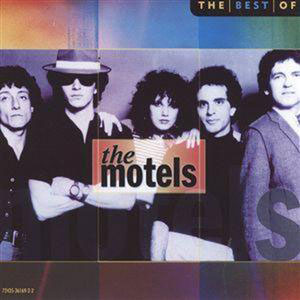 Jourard has yet to be inducted into the Hall of Fame, but he still enjoyed (and is still enjoying) a noteworthy musical career with the Motels. The new-wave band from Los Angeles produced Top-10 hits "Only the Lonely" and "Suddenly Last Summer," as well as many other melodious tunes on five albums.
Although Jourard left Gainesville four decades ago to pursue his dreams, a look through his book makes it clear that Gainesville never truly left Jourard.
In "Music Everywhere: The Rock and Roll Roots of a Southern Town," the author recaptures the Gainesville music scene between 1964 and 1976. Through interviews and exhaustive research that brought him back to town three times, Jourard has created an engaging narrative about the culture and the characters that made Gainesville unique among college towns.
"Writing the book was pretty much a labor of love," he said. "I treated it carefully because it needed to be done right, and I think I've done it as right as it could be done."
Writing the book was pretty much a labor of love.
— Marty Jourard
Jourard said that a previous appearance at the Matheson Museum, in 2006, prompted him to write the book. That night, he, Mike Boulware, Gary Gordon and Tom Holtz reminisced about the band scene in Gainesville during the '60s and '70s.
"There were probably 100 people there and they were just so excited to be hearing about the music," Jourard said. "That's when I realized there was a real interest in that period that hadn't been documented in a book."
Later that night, driving back to Crescent Beach where he was visiting his mother, Jourard had an epiphany.
"I had all this time to ponder the idea that somebody really should write about that period," he said. "It turned out to be me."
For anyone who lived in Gainesville during that magical yet turbulent era, the book is a nostalgic romp down Memory Lane, filled with anecdotes about musicians and venues, including a couple of topless joints that offered live music as a bonus to their featured attractions.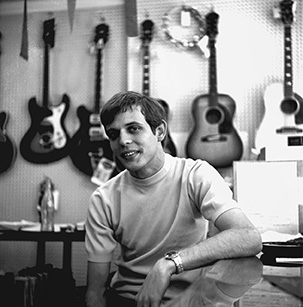 For those with no ties to Gainesville, "Music Everywhere" still resonates because of its narrative that mentions many well-known musicians—Petty, Lynch, Bernie Leadon, Don Felder and Stephen Stills, to name a few—in their formative years. At the time, Petty was involved with a band called the Epics and then formed Mudcrutch.
In its appendix, the book documents all the live performances by national acts that came through Gainesville between 1960 and 1976. They included Louis Armstrong, Simon and Garfunkel, the Supremes, Janis Joplin (four months before her death), Bette Midler, Elton John and Muddy Waters.
The black-and-white photograph on the "Music Everywhere" cover (and on page 144) is a story in itself. At first glance, the image appears to be just a random group of hippies mugging for the camera in 1973. Most of them are positioned on an old pickup truck. A man in the foreground is sitting on a toilet.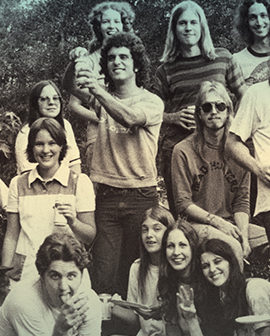 In the middle left of the photo, a man is about to open a beer can with outstretched arms. That is Jourard at 18. To Jourard's left, in aviator sunglasses, is Petty at 22. Members of Petty's old band, Mudcrutch, and Jourard's old band, Road Turkey, are scattered throughout the image.
According to Jourard, the guy on the toilet pointing is Jim Lenahan. He went on to become the production designer for every Tom Petty tour for 38 years.
"I'm about to pop open what must've been an Old Milwaukee all over Jim Lenahan, which I did shortly after the picture was taken," Jourard recalled. "We're in a field somewhere at a picnic, I don't remember where. We were just totally goofing off. Everybody."
The photo, taken by William "Red"Slater, is a snapshot of the times. It reflects the camaraderie that existed between musicians back then and that still exists today in Gainesville.
Jourard published the book through University Press of Florida, the reputable academic press located a block from the UF campus.
He first pitched the book idea to UPF five years ago but was flatly rejected. The acquisitions editor told Jourard that the book's limited timespan, locale and narrow topic made for a tough sell.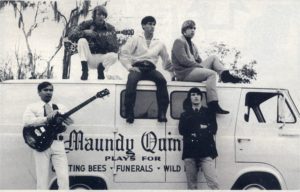 After more rejections by other publishing houses, Jourard wandered back to the UPF website and noticed there was a new acquisitions editor.
"Her name is Sian Hunter," Jourard said. "She's the one who got the book into publishable form."
Early on in their conversations, Hunter told Jourard that his impressive collection of material resembled a scrapbook more than a manuscript.
"She was right," he added. "She helped me put it into chapters so that it was sellable. I give her total credit."
The 12 chapters are broken down into years, beginning in 1964 with the arrival of the Beatles in America and ending in 1975-76 with the arrival of disco. Each chapter begins with a list of the top songs and their artists from that year. Jourard then describes the music scene around the U.S and how Gainesville, in most cases, mirrored that national scene.
"The Beatles kicked off the whole idea of a pop band being a musical entity," Jourard said "Then disco came along and took the record charts kind of back to where they were before the Beatles – where you had a singer, an arranger, an orchestrater and a session band. It wasn't really a band.
"Disco pretty much killed the live rock-band Top 40 scene all over the U.S. You no longer needed a band at clubs for people to dance."
Jourard also ended the book in 1976 for personal reasons. That's when he left Gainesville for Los Angeles, at age 21, to pursue his music career in Los Angeles.
"Music didn't end when I left Gainesville, that's for damn sure," he said.
Jourard said that writing "Music Everywhere" was more or less a rendezvous with destiny.
"Looking back, I realized how much I got from growing up in Gainesville and how I exploited all those experiences when I moved to L.A.," he said. "Gainesville has produced so many rock superstars. I just thought it was off the statistical charts for that to happen for one town. That intrigued me."
In putting the book together, Jourard interviewed numerous people. They included Felder and Leadon of Eagles fame, Lynch and other musicians. However, one person he did not interview for "Music Everywhere" was Petty.
"Tom has done so many favors for me over the years that, honestly, I just didn't want to call him up and say 'Hey, can we talk about Gainesville?'" Jourard said. "That's exactly the truth."
At Petty's insistence, Jourard played saxophone on two Tom Petty and the Heartbreakers songs– Mary's New Car on "Southern Accents" and Down The Line on the B-side of Free Fallin'. When Petty was producing Del Shannon's final album, "Drop Down and Get Me," he asked Jourard to play sax on Midnight Train.
Also, when Jourard wrote his first book, titled "Start Your Own Band" (Hyperion), Petty wrote a short but sweet introduction.
"I figured Tommy had been phenomenally generous to me and there wasn't really anything I needed to get from him that was going to bring something to the book that it needed," Jourard said. "He's in the book. That's what matters."
What also matters is that Jourard sees the big picture in "Music Everywhere." For example, the old Lipham Music store played a central role in the overall music scene by not only hiring Petty and other musicians, but also by allowing up-and-coming musicians to pay for their instruments on credit.
One image in the book shows a check for $200 written out to Lipham Music Company by none other than Duane Allman of the Allman Brothers.
"If you were a musician and you went into Lipham's on a Saturday, there were the other local musicians there. It had sort of a town-hall feel to it," Jourard said.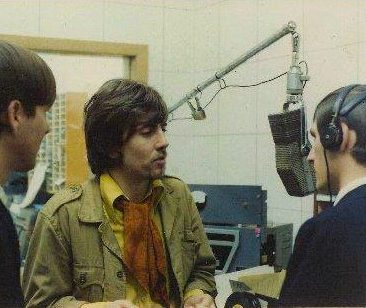 "All that money went around in a circle in Gainesville. It was self-sustaining and, of course, that attracted more bands and then there's more clubs and more places to play in. It's like an economic cycle. It really was rocking out for lots of different reasons for that period I write about."
Jourard isn't a Gainesville native. He was born in Atlanta. His father, Sidney, was a psychology professor who moved his family from Birmingham to Gainesville in 1958, when Marty was 4.
He credits his mother, Toni, for his musical talent.
"My mother played upright piano and was very artistic," Jourard said. "I got my artistic genes from her. Whatever analytical or writing genes I got were from my father."
Growing up, Jourard listened to his parents' eclectic album collection. They included Leadbelly, Sonny Terry, Brownie McGhee, Josh White and Harry Belafonte as well as folk singers such as Peter, Paul and Mary.
"My parents didn't push music at all. It just sort of bubbled up from the popular music of the time on radio and television," he said. "I must have been born with some inherent talent that I developed."
It also didn't hurt that the Jourards lived in London for a year during 1964-65, at the height of Beatlemania. Marty attended fifth grade in England. (He attended P.K. Yonge all other grades 1 through 12.)
The other influence was Marty's older brother, Jeff, who had started playing the guitar.
"His first band practiced in the other side of the house," Jourard said. "I was exposed to all that before I started playing. Jeff was obsessed with it. He got very good."
More than a decade later, Jeff Jourard was instrumental in getting frontwoman Martha Davis to lend her mesmerizing voice to the group that would become the Motels.
"The Motels wouldn't have gotten a record deal or been organized enough or played around without Jeff's organizational skills and his arrangements," Marty Jourard said. "Our first album was really because of him and Martha. He was the reason I got into the Motels."
Capitol Records signed the Motels to a record deal in 1979 and stuck with them despite a rocky start.
"These were the times when a record label would say, 'We believe in this band,'" Jourard said. "If your first album wasn't a big hit, they wouldn't drop you. If your second album wasn't a big hit, they still wouldn't drop you. It was very rare. Capitol was good to the Motels. They saw potential. They stuck with us."
In eight-and-a-half years, the Motels recorded five albums with Capitol, two gold records and saw the world. The band toured in Europe, in Japan and twice in Australia, where they were more popular than in the U.S.
In retrospect, leaving Gainesville for California was a brilliant career move for Jourard.
"I didn't really know what I was doing," he said. "All I knew is that I was young and I was having a lot of fun. I just dove into the scene of the mid '70s and met a lot of people in the music industry."
After the Motels broke up on mutual terms, Jourard moved to Washington in 1989 and settled down into the life of a family man. He wrote two books and taught music, but never stopped playing.
In 2012, Davis asked Jourard to make special appearances with a reboot of the Motels. They opened for the Go-Gos at the Hollywood Bowl on Sept. 29 to a raucous welcome. Since then, Jourard's "guest" gig has become somewhat permanent. He's appeared in more than 125 shows, including another tour of Australia.
"Martha told me, 'You're really back in the band. You sound great. You're our sax player!" he said. "I had to get all those keyboard sounds from the '80s back. I had to recreate them on the synthesizer. It was a trip."
So, Marty Jourard remains a busy man these days.
"I'm pretty happy with that whole music thing and I'm extremely happy to finish the book," he said. "It's pretty easy to start a book, but finishing and getting a book deal has been on my plate since 2006."
Not until he returned to Gainesville earlier this week did Jourard actually get to hold a copy of "Music Everywhere: The Rock and Roll Roots of a Southern Town."
"It's deeply satisfying to finish this book, to put it out and to document a period that I could see was going to just disappear."
When Jourard talks about Gainesville, his words are heartfelt.
"Gainesville is where I grew up, and my childhood was wonderful," he said. "Cornball as that sounds, it was almost idyllic despite all the crazy shit going on in the '60s. It was like growing up in a greenhouse and you're a seed and you're sprouting and you've got all of the sunlight and the water and nutrition you need to pursue something that interests you, which in my case was music.
"Once I left Gainesville, I realized it was almost like a musical paradise. I loved growing up in Gainesville."
— Noel Leroux
---
Order a copy of Jourard's "Music Everywhere: The Rock and Roll Roots of a Southern Town," through Amazon.